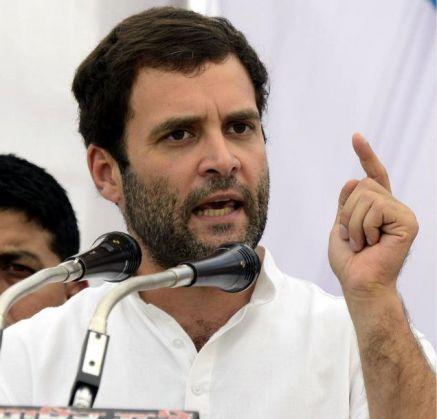 The second day of Parliament's Monsoon session remained deadlocked as the Congress continued protests against government non-action in the cases of Sushma Swaraj, Vasundhara Raje Scindia and Shivraj Singh Chauhan. Members of the Congress wore black bands and stormed out of Parliament.
Outside Parliament House, Congress Vice-President Rahul Gandhi addressed the media, pointing out Prime Minister Narendra Modi's silence on the issue. "We want the Prime Minister to respond to the corruption charges against Sushma Swaraj and the chief ministers of Rajasthan and Madhya Pradesh. His words should carry weight... You are the Prime Minister of the country, not the Prime Minister of BJP. The people of India need to know what is in your mind," he said.
Calling the Foreign Minister's involvement in the Lalit Modi's case a 'criminal act', Gandhi declared the party's strategy for this monsoon session: "No discussions without resignations."Congress President Sonia Gandhi has claimed that the official channel that airs Lok Sabha proceedings blacked out the Opposition's protests.
Earlier, Congress's Rahul Gandhi and Mallikarjun Kharge had a meeting with Tariq Anwar of the Nationalist Congress Party and Jharkhand Morcha Manch's Hansdak. During the session, the Telangana Rashtra Samiti and the Left parties made their resistance public. The Lok Sabha Speaker had to then adjourn the House till noon and after that, for the entire day.
BJP refuses to bow down
The BJP-led government is refusing to remove its tainted party members from their current positions. The BJP has now released corruption charges against Sonia Gandhi's son-in-law Robert Vadra and the Himachal Pradesh CM, Virbhadra Singh.