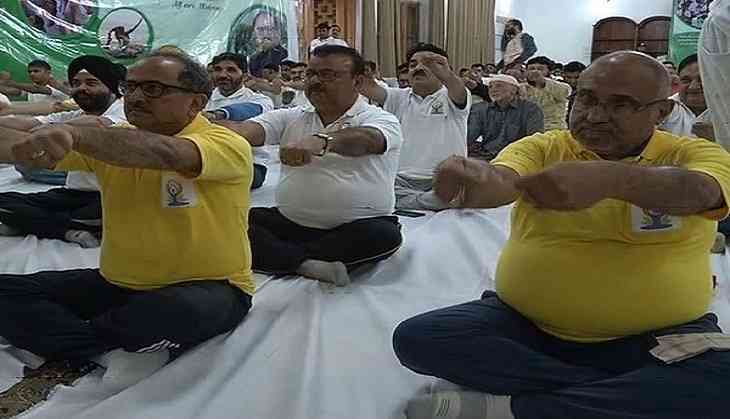 On the third International Day of Yoga, Jammu and Kashmir Deputy Chief Minister Nirmal Singh along with other state minister on Wednesday performed yoga at his residence in Srinagar and asserted that it has countless benefits.
Singh said, "The world has accepted the countless benefits of yoga and is celebrating the day with great fervor. I thank Prime Minister Narendra Modi who has taken initiative for us all. I also want to congratulate him and the people who are doing this".
Singh further added that there would have been more participants if the weather would have been supportive and people must adopt yoga in their daily life to avail its benefits.
Minister for Commerce and Industries, Chander Prashad Ganga, Members of Legislative Council (MLC) Sofi Yousuf, Ramesh Arora, Surinder Amberdar and Charanjeet Singh Khalsa; Vice- Chairman, Daljeet Singh Chib, Dr Ali, G. M. Mir, Khalid Jehangir; District Presidents Srinagar, Budgam, Fayaz Bhat and G. H. Khan respectively; District Vice- President Srinagar, Ashok Bhat, Asif Masoudi, Hina Bhat, Moulvi Tariq and District General Secretaries Arif Raja, Zubair Nazir were present on the occasion.
-ANI