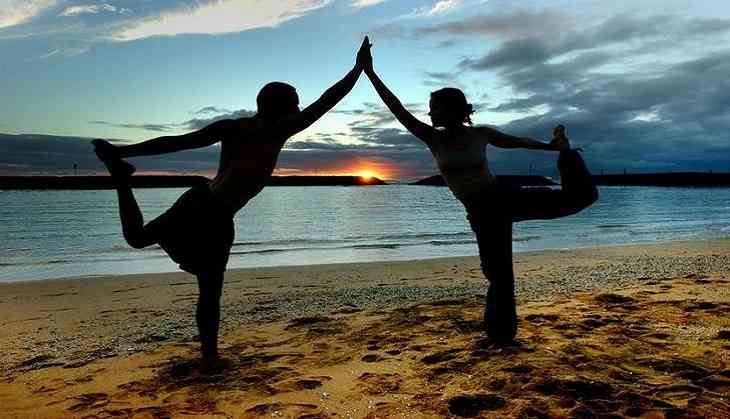 When International Yoga Day was first observed in Nagaland, a Christian-dominated state in the North East, there were not many takers of the art of healthy living as a fitness art.
Many people construed it as an initiative to popularise Hindu philosophy. However, the change in perception has been proven with enthusiasts going to Orentsani Fitness Studio, DC Court Junction, Duncan Bosti in Dimapur.
The lesser known fitness studio, owned by Orentsani Kikon, has today 30 plus students age between 3 - 80 years.
Orentsani is the first yoga instructor among the Nagas in Nagaland.
"I am not here to propagate any religious philosophy or for that matter the philosophy of yoga, but to spread healthy lifestyle through yoga," Orentsani said.
Her journey of yoga started when she underwent yoga teacher's training from Yoga Institute of Mumbai and then mastered Hatha, Classical yoga and Power Yoga from different institutions.
"I came across many opportunities to teach yoga in various parts of the world. However, I choose my state Nagaland and took the challenge to spread the healthy lifestyle," she added.
Among the students is 67-year-old N. Hokto Sema, a retired engineer, who testified to the benefits of going for yoga, and said, "I have diabetes and BP, but it's under control after I started attending this yoga class since 2017 January."
Lydia Yeptho also said she was diagonised with a neuro problem earlier. She also said that the yoga class has helped her a lot.
Elvin, a housewife, said, "I only get full attention to my health during the yoga session, as we women remain busy attending to household chores, children and family affairs the whole day."
For a young student like Sophi Nymba, yoga boosts memory power. "I find it very interesting. Practicing yoga helps me a lot even in my studies," she said.
-ANI