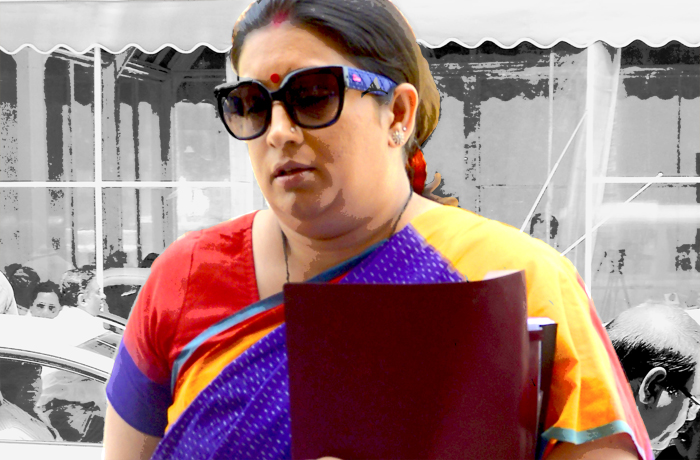 "Women are not told what to wear in our country". These are the words that will forever be etched in the sands of time as the most ironical statement made since Maggi's former tagline: Taste bhi! Health bhi!
And coming from the Minister of Human Resources and Education, Smriti Irani, this line is like a slap on the faces of those of us women who do not move around with Z+ security.
Speaking at the Women in the World Summit - being held in Taj Mansingh in New Delhi - Irani was interviewed by media personality and summit founder Tina Brown.
While talking about gender equality and the state of women in India, Smriti Irani said: "Women are not told what to wear in our country. I think that these challenges and push and pulls are part and parcel of each and every country.
In the US as well, some teachers have asked students not to wear provocative clothes during Halloween while other teachers say that that women have right to wear provocative clothes.
I come from a lower middle class family where my relatives told me that I was good for nothing while my mother asked me to ignore what they were saying and to chart my own fate."
Is it any wonder then that she got booed by the crowd?
We live in a country where women are not only told what to wear, but also how to wear it. If that wasn't enough, there are also rules about when a woman can leave the house, and with whom.
Women in the country have also been told that jeans and leggings are bad for a man's self control. Girls are taught that their clothes may determine if they are responsible for being sexually assaulted.
Women are most definitely told what to wear in every single corner of our country. In fact, we have rarely been told that we can wear whatever we want to.
So, no. A thousand times no to your statement, Madam Irani.
But Smriti Irani is nothing if not a firebrand politician. Despite her regular foot-in-the-mouth comments, she seems to always rise like a phoenix from the ashes of her controversies.
Catch News too tweeted out how she was booed on stage, and pat came this reply from the social media-savvy minister: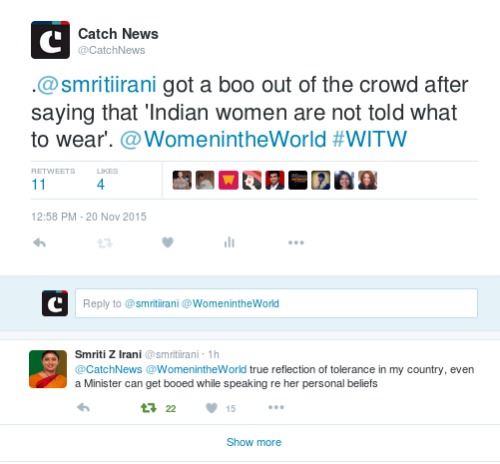 But while her tweet is as spunky as she is, it is her husband Zubin Irani's tweet that wins all the heart-shaped cupcakes.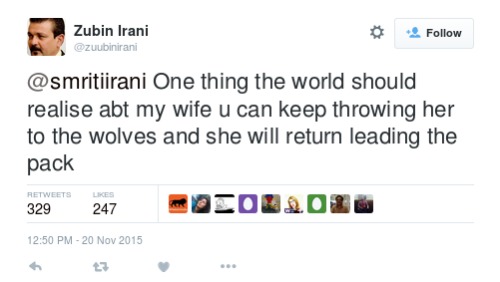 The crowd may have booed her, and social media may have slammed her. But Smriti remains as unfazed as always.
We may not always agree with you Madam Irani, but we do admire your pluck. #AlwaysLikeABoss
Adios till the next goof-up.