On 16 November, the government prepared itself for a stormy Winter Session of the Parliament with the Opposition presenting a united front to corner the Centre over the demonetisation issue calling it a "currency scam" that needs to be probed.
The Opposition also has a string of other issues like the surgical strikes across LoC, the situation in Jammu and Kashmir, OROP and the plight of farmers to rake up during the session that will last a month.
Here are the Live updates:
06:p2 pm: We demand that PM should be present here tomorrow morning and participate in the discussion on demonetisation: GN Azad, Congress in RS
05:40 pm: Comparing our PM with Hitler, Mussolini, Gaddafi is atrocious to say the least; it is totally wrong: RS Prasad in RS
05:30 pm: Congress party please come out of dilemma; Are you in favour of smugglers or some strong steps?: Naidu in RS
04:21 pm: Loan to Vijay Mallya's Kingfisher a write-off 'only in books,' but the government is still pursuing his case: Arun Jaitley in RS
04:10 pm: Mayawati too raises the issue of Janardhan Reddy's family wedding, asks BJP "why no action for spending ₹500 crore?"
04:00 pm: If PM Modi had prepared well for demonetisation move, he could have avoided doing drama in Goa, where he cried. Also, his mother wouldn't have to come out for exchanging notes, says Mayawati in RS.
03:45 pm: PM Modi said that the government has been preparing for demonetisation since 10 months, that is enough time, still situation is out of control. The fact is that these 10 months were used to handle black money accumulated by BJP leaders and industrialists: Mayawati in Rajya Sabha
03:33 pm: PM said 50 days more are required for alternative arrangement to come into place. Till those alternative arrangements are not in place, allow these notes to be transacted for all white transactions, public purposes: Sitaram Yechury in Rajya Sabha
03:30 pm: If none of the objectives are to be fulfilled by this, what is the meaning of this move? -Yechury
03:28 pm: None of the points mentioned by Prime Minister stand on any strong footing, whether it's terror funding, black money, counterfeit currency, or corruption: Yechury
03:24 pm: If you stop Rs 500/1,000 notes, do you think corruption will stop? Now corruption will double with Rs 2,000 notes: Yechury
03: 13 pm: Biggest hoarders of black money do not stash them under beds. They invest in real estates, bullion and make more black money: Sitaram Yechuri.
03:10 pm: Huge cash amount in high denomination currency was deposited in a Kolkata bank by the local BJP party unit: Sitaram Yechury
03:01 pm: Paddy price has fallen, thousands of trucks with goods are standing on the national highway. In French revolution, they said if you don't have bread eat cake. Now Modi says if you don't have paper, pay by plastic: Sitaram Yechury
02:58 pm: What is called demonetisation is 86% of our cash transactions; country today is living on cash transactions of 14%. Daily wage earners and small traders worst hit by demonetisation: Sitaram Yechury, CPI(M).
02:54 pm: Form a JPC to find a solution for the inconvenience faced by the common people: Sharad Yadav.
02:40 pm: JD(U) leader Sharad Yadav attacked government during discussion on demonetisation in Rajya Sabha.
02:13 pm: Allegations of information about demonetisation leaking before PM's announcement must be probed: Ram Gopal Yadav.
02:10 pm: People's white money is being looted and you talk of curbing black money: Ram Gopal Yadav.
02:06 pm: Those who are hailing demonetisation, will face reality in 4 months when cash crunch hits them. No commodity will sell, including Baba Ramdev's products: Ram Gopal Yadav.
02:00 pm: Rajya Sabha session resumes.
01:01 pm: Rajya Sabha adjourned till 2 pm.
12:55 pm: Cash ban has hit farmers hard. Agricultural products are rotting. All poor people are in bad situation: Samajwadi Party leader, Ram Gopal Yadav.
12:48 pm: This did not happen even during the emergency. The common man has become a beggar. So many people have died in the last few days. I appeal to the BJP to look at the lines in front of banks in villages: Ram Gopal Yadav in Rajya Sabha.
12:28 pm: Humne toh kabhi ise surgical strike ka naam nahi diya, aap agar aisa maante hain toh acchi baat hai: Piyush Goyal. (We never termed it as surgical strike. If you believe so, it's a good thing.)
12:25 pm: Imaandari ke paise pe koi rok nahi hai. Move against the black money will help in long run: Union Minister Piyush Goyal in RS.
12:18 pm: I have been observing (Arun) Jaitley ji in the Rajya Sabha and have noticed he does look very 'dukhi' (sad): Mayawati.
12:17 pm: It's a sensitive issue, we want the Prime Minister to come to the Rajya Sabha and take part in this discussion: BSP chief Mayawati in Rajya Sabha.
12:12 pm: Pehli baar desh mein imaandaar ka sammaan hua hai aur bemaan ka nuksaan: Piyush Goyal. (First time ever, an honest person is being honored in the country, while corrupt people are in pain.)
12:10 pm: Aaj poora desh swagat kar raha hai sarkar ke is kadam ka: Union Minister Piyush Goyal in Rajya Sabha. (People are welcoming step taken by the central government)
12:00 pm: BJP leaders go to wedding functions of Janardhan Reddy,and they talk about fighting black money,why dont you arrest him? asks Anand Sharma.
11:55 am: I condemn PM's statement in Goa for mocking the people who are standing in queues; he must apologise: Anand Sharma.
Anand Sharma: Who is threatening you? Who wants to kill you, tell parliament. He beat his chest and said I've given up everything. You go all around the world, what sacrifice is this?
11:50 am: An atmosphere has been created by Govt where questioning the Govt has become the parameter to decide one's nationalism: Anand Sharma
11:48 am: Government has list of those holding black money in Swiss Bank; we demand that PM must tell who all are there in the list: Anand Sharma.
11:42 am: Kis kanoon ne aapko adhikaar diya hai ki hume apne account se paisa nikalne pe bhi paabandi laga rahe hain?: Anand Sharma, Congress. (Which law allowed you to prohibit us from taking money out from our own accounts).
11:34 am: Which country is cashless? asks Anand Sharma.
11:33 am: Agriculture is important in India. And, we are self-sufficient because of this. Most farmers take cash for their produce in mandis (markets). The Payments related to Kharif crops are yet to come, but and Rabi is already happening: Congress leader.
He added that crores of people are waiting in queues and most people eat at dhabas, where cards are not accepted. Anand Sharma asked, Do dhabas accept credit cards?
11:31 am: Which terrorist goes to bank with counterfeit notes? Common people do: Anand Sharma.
11:30 am: Poori duniya mein ek sandesh gaya ki Hindustan ki economy kaale dhan pe chalti hai: Anand Sharma in Rajya Sabha. (A message has been sent to the world that Indian economy runs on black money)
11:28 am: 86% of the currency in the markets was 500/1000 notes, was scrapped by just one announcement. Was it all black?: Anand Sharma
11:25 am: Congress leader Anand Sharma initiates demonetisation debate.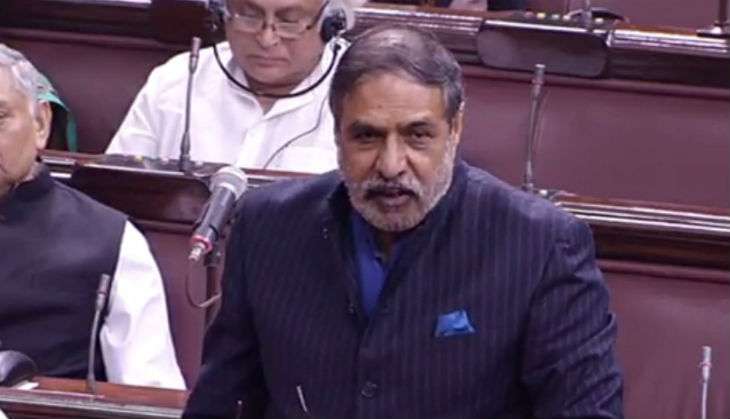 11:12 am: Lok Sabha adjourned till tomorrow after obituary references.
11:00 am: Parliament winter session begins in both houses.
10:55 am: Our party is not against the demonetisation decision but the way it has been implemented, says BSP Chief Mayawati.
10:40 am: TMC protests at Gandhi statue inside Parliament premises.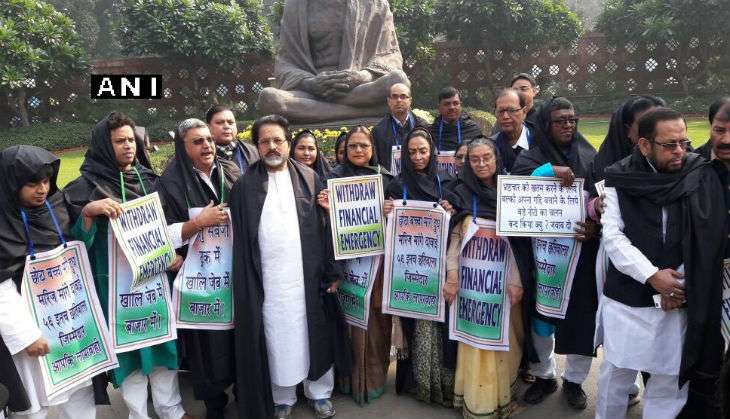 Photo: ANI
10:33 am: Prime Minister Narendra Modi addressed the media and said, "In last session an important bill like GST was passed, it was a big step. I had thanked all parties then. In the winter session, a very positive discussion will happen and on all issues with contribution of all parties."
Also Read: I'm not like Modi, won't comment on his mother: Rahul Gandhi
"I hope that the session will witness healthy debate. We are ready to discuss to all matters. When all parties work together in national interest, fruitful decisions can taken quickly," he added.
10.30 am: Prime Minister Narendra Modi reached parliament.
-With PTI inputs