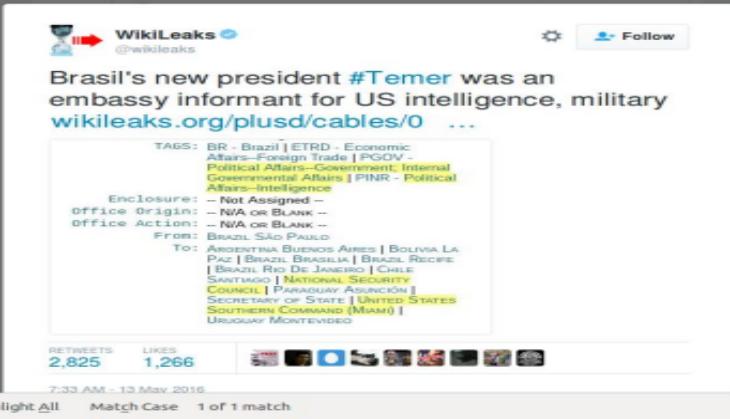 Whistleblower website WikiLeaks has described the Senate-imposed President of Brazil, Michel Temer, as a "US Embassy informant" in a tweet.
Brasil's new president #Temer was an embassy informant for US intelligence, military https://t.co/3l2eUdiqvy pic.twitter.com/IUuUgHYd1e

— WikiLeaks (@wikileaks) May 13, 2016
The website provided two links where Temer's candid thoughts on Brazilian politics serve as the basis for a report by the US embassy in Brazil, reported Telesur (La Nueva Televisora del Sur), a multi-state funded, pan-Latin American terrestrial and satellite television network.
According to Telesur, the cable from 11 January, 2006, states that Temer met with embassy officials on 9 January, 2006, to give his assessment of Brazil's political landscape ahead of the 2006 General Election that saw Luiz Inacio Lula da Silva re-elected to the presidency.
Temer became the interim President after Dilma Rousseff was suspended, when the country's senate voted in favour of putting her on trial for breaking budget laws, by 55 to 22 votes.
He has been criticised for making clear his intention of pursuing a pro-business, neoliberal programme as president, despite the fact that Rousseff and her Workers' Party was re-elected on the basis of a progressive programme of social investment and wealth redistribution.
The leaked cable indicates that Temer has always held a neoliberal outlook.
Temer was elected vice president along with Rousseff, but he betrayed his former allies and joined in efforts to oust the president via impeachment.
Another cable dated 21 June, 2006, shows his second meeting with US embassy staff appraising them on the political situation in Brazil.
In that cable, Temer laments the lack of power given to PMDB ministers during the Lula government.
"Temer spoke caustically of the Lula administration's miserly rewards for its allies in the PMDB," reads the cable.
According to Telesur, Temer's bitterness over being left out of Rousseff's governance decisions was said to be one of the factors that motivated his eventual support for her impeachment.