Somi Das
| Updated on: 13 February 2017, 3:35 IST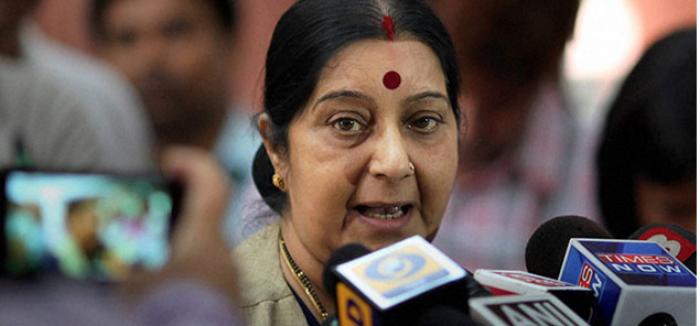 HRD Minister Smriti Irani on 7 August came to the rescue of the much attacked External Affairs Minister Sushma Swaraj.
Irani's defence of Swaraj came after Congress vice president Rahul Gandhi alleged that Swaraj's family had received money from Lalit Modi and Sonia Gandhi called her an expert in 'theatrics'.
The HRD minister said: "The Congress Party is moving away from discussion and the Lok Sabha because they don't have any proof of the allegations that they are making. It is easier for them to give a byte of one and a half minutes than to speak for one and a half hours with the support of a paper in Parliament."
Sound bytes vs statement in Parliament without Opposition
Maybe Irani has a point. Speaking outside Parliament and giving sound bytes to the media is easier than having a full-blown debate on the floor of the house - something the citizens of this country would love to watch and something, for strange reasons, Parliamentarians always abstain from.
But here's the catch. If giving sound bytes is easy, it is equally easy to make a statement in Parliament in the absence of the Opposition. How ethical is it to use the platform of Parliament to deliver an emotional monologue when the majority of the Opposition is boycotting the Lok Sabha over the suspension of as many as 25 MPs of the principal opposition party?
Swaraj said nothing substantial in her 6 August statement. She repeated her firmly held stand that she never made any formal request to the UK authorities regarding Lalit Modi's travel papers. All she did was merely communicate the fact that giving Modi's travel papers wouldn't affect India's relations with the country.
Too much rhetoric, same old facts
And she justified this small act by saying "his wife has been suffering from cancer for the last 17 years and it is the 10th time it has recurred." Then she went on to ask a rhetorical question: "Main poochhna chaahti hoon ki agar meri jagah Sonia ji hoti to kya karti? Marne ke liye chhod deti? (I want to ask Sonia Gandhi, what had she done if she was in my place?)"
Gandhi was not even there to answer the question. But she chose to address her instead of answering far more important questions like whether she had discussed the issue with the Prime Minister or the Home Minister. Or why she did not deem it right to help Modi only if he returned to India to face a probe. Shouldn't she have recused herself from the request when she knew that her husband and daughter have been Modi's counsels?
Not efficiency, propriety of action under scrutiny
In her fervent defence of Swaraj, Irani added how Swaraj and her daughter have to work hard as they come from a "normal family" unlike Sonia Gandhi and her son Rahul Gandhi.
Here too Irani completely misses the point. No one is questioning her colleague's efficiency as a politician or minister. It is propriety of action that is under scrutiny. And Swaraj clearly misused and wasted the one opportunity she had to come clean on it.