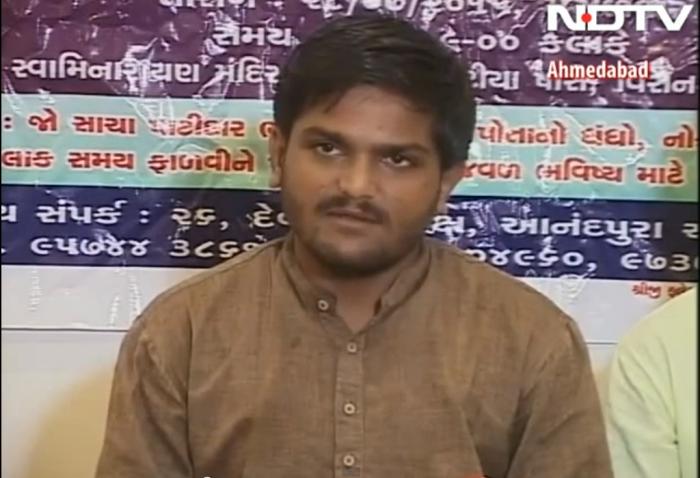 The Patel community's demand for OBC status in the Gujarat is taking a political colour with Congress and BJP taking jibes at each other.
"What has happened under BJP's rule? Are youth of the community not getting jobs, education? Are they not getting proper income from agriculture, do they have to close their businesses? Why this progressive community has to out on streets demanding reservation. We want to ask these questions to BJP," said Congress spokesperson Manish Doshi when asked about his remarks over the community's demand.
Earlier the BJP-led state government had accused Congress of inciting the Patel community which is agitating for OBC status to be eligible for quotas in college admissions and government jobs.
Doshi, however, refuted BJP's allegations and said that their party has not been approached by the Patels for support.
"Though we are not concerned in anyway with the Patel community's agitation, we would like to ask why Patels, considered to be very progressive, have come out on to the streets with such a demand," Congress spokesperson Manish Doshi said.
What led to the protests?
Patels wants "backward" status arguing that they have no backing from a political party. According to them, a vulnerable section of the community has been suffering as a result of reservations for other communities.
This is perhaps surprising as the community, which makes up around 20 per cent of the state's population, is considered to be the most influential, both financially and politically. Though they are mainly into farming community, they also control businesses of the state, including big industries.
BJP has also garnered a favorable support from the community over the past two decades.
Intensifying unrest
Led by 21-year-old Hardik Patel, a Mehsana business man, Gujarat Patels have threatened to escalate the agitation to the levels of Gujjar protests in Rajasthan.
After covering a dozen major centres, the Patidar Anamat Andolan Samiti (PAAS) held a large rally in Gandhinagar on August 3.
The government reacted after a rally in Visnagar, Mehsana, turned violent and journalists were attacked. In a first, 152 Patels were booked by the Mehsana police for violating prohibitory orders, after they took out a rally in Vijapur recently.
The protesters have attempted to co-opt Sardar Vallabhbhai Patel as a 'Patel icon'. On August 4, PAAS leaders took offence at the Surat police allegedly asking them if they had "mistresses and girlfriends". Another rally planned for August 17 in Surat , is yet to be cleared by the police.
History of OBC quotas in Gujarat?
The idea of quotas in state was promulgated in the year 1973 by the then Chief Minister Madhavsinh Solanki of the Congress, who was himself an OBC.
A three-member commission led by Justice (retd) Anantprasad R Bakshi, and comprising Dr Taraben Patel, a professor of sociology from Gujarat University, and C N Vakil, a professor of economics from MS University, was thus constituted to recommend communities for Gujarat's OBC list.
The commission submitted its report in 1976, after which 82 communities were recognised as OBCs. In 1981, the state announced a 10% quota for OBCs.
The state subsequently appointed the Gopal Krishna Commission and Rane Commission, which added communities to the Bakshi Commission's list. Gujarat now has a permanent OBC Commission in Gandhinagar, headed by former Gujarat High Court judge Sugnya Bhatt.
Gujarat now has 146 notified OBCs. The last community to be added to the list was 'Darjis' or tailors.
The Modh Ghanchi community to which Prime Minister Narendra Modi belongs, is also on the list. Seventeen of these 146 communities are Muslim, such as Sipai, Pinjara, Muslim Ghanchi, etc.