Somi Das
| Updated on: 14 February 2017, 5:54 IST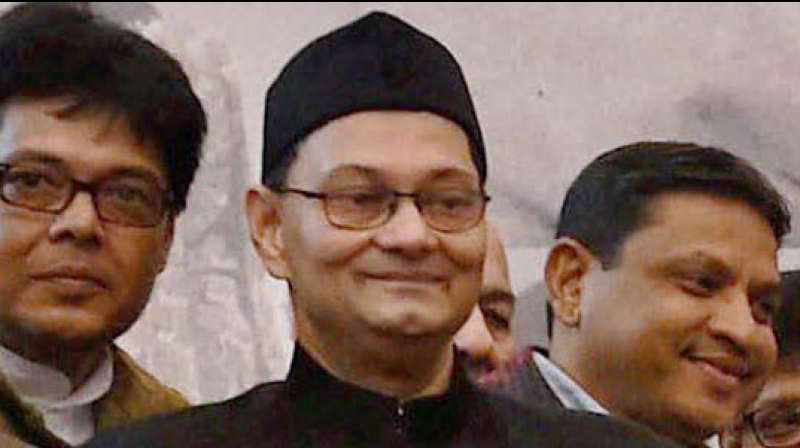 On 9 March, 2016 when HRD minister Smirit Irani announced Chandra Kumar Bose as the BJP candidate against West Bengal Chief Minister Mamata Banerjee in the upcoming elections, political pundits wondered if it was a masterstroke or a suicidal move for the party.
It was barely a little more than a month that the 55-year old grand nephew of Subhash Chandra Bose had formally joined the party. Today he stands to be the de facto chief ministerial candidate. Bose's prompt rise in the party is being attributed to two reasons - inheriting Netaji's legacy and a lack of prominent faces in the BJP camp to counter Mamata Banerjee.
Bose though is quite confident about his electoral debut and believes the BJP deserves one chance in the state.
Excerpts from his conversation with Catch:
SD: What is BJP's poll plank for the elections in West Bengal?
CB: It is a three-point agenda.
Firstly, the law and order situation needs attention. I must credit the Left government for at least improving the law and order situation in the state. But with Mamata Banerjee's TMC coming to power, that's all gone. The TMC government makes no effort to nab culprits. Instead, they try to protect them. This happened in the Park street rape incident. Before any inquiry, the chief minister gives a statement calling it a "shajano ghotona" (cooked up incident).
Read More: Netaji's grand nephew Chandra Bose to contest against Mamata Banerjee
Secondly, we must immediately change the industrial climate for investors. Unless there is a suitable industrial climate and environment for them to invest, nothing will change. We must have a land policy in place. I am not saying we should grab land. But the government must act as a facilitator.
Thirdly, it is an issue of ideology. The BJP is a nationalist party. Subhash Chandra Bose was the first nationalist of India. Today Netaji's ideology of nationalism, unity, integration and communal harmony has been accepted as the BJP's ideology.
Many call BJP a communal party. But parties that indulge in minority appeasement are also communal. One shouldn't appease either the minority or the majority - that was Subhash Chandra Bose's ideology. On the other hand, the TMC has no ideology. We do not know what Mamata Banerjee stands for.
Read More: West Bengal elections: Left announces 84 candidates, 11 seats overlap with Congress' choice
SD: From playing up 'Ghar Wapsi' to cow politics during the Bihar polls, BJP's campaigns have been highly communal. So while Mamata Banerjee is accused of resorting to minority appeasement for electoral gains, how is the BJP a party with a difference?
CB: Religion is a very private issue. It should have nothing to do with politics. I don't support it at all. However, the BJP will evolve into an absolute secular party that maintains communal harmony across the country. I have great confidence in the leadership of Narendra Modi, Otherwise, I wouldn't have joined the BJP. When I go out to seek votes, there is no question of polarizing or taking sides or supporting one community over another.
Read More: Trinamool fights dissent after declaring candidates
SD: Technically speaking Subhash Chandra Bose's real political legacy is the Forward bloc party. Some members of the Bose family are with the TMC, you joined the BJP. On the other hand, Forward Bloc's political presence is negligible. Do you think the family should have done more to preserve it?
CB: Netaji did establish the Forward Bloc in 1939 but unfortunately he could not lead it. No party has survived unless the founder leader was involved with it. Netaji went abroad in 1941. Despite that, the Forward Bloc survived, just by Netaji's name and memory. Unfortunately, it has drifted away from Netaji's ideology. Netaji was not a communist. Netaji's ideology at that time was the Indian way of socialism.
Had the Forward Bloc not associated itself with the CPI(M), then it would have been a national party challenging the Congress. The fact that the Left government has been in power for 35 years hasn't helped the Forward Bloc. It is disintegrating. There are 4,000 boys and girls from the Forward Bloc who have joined BJP and some of them have also joined the TMC. It is just a B-Team of the CPI(M). And this is not acceptable to me. Subhash Chandra Bose didn't accept any foreign ideology of Marxism and communism. I think BJP's ideology is to have an Indian ideology. Netaji would have supported that.
SD: How do you read the current debate on nationalism?
SB: I believe we don't have to shout from the roof top that we are nationalists. Only your actions will show whether you are nationalist or not. You see what happened in Jadavpur. They questioned hoisting the national flag on the university campus. Now, why should you have a problem with the national flag? You should be proud of it. America even has the Stars and Stripes on their clothes.
SD: But that might just get us in trouble in India.
CB: Yes, we have certain values which don't allow that. But then why not? The national flag is something which needs to be respected and celebrated. And on the JNU issue, I want to ask Kanhaiya Kumar when he shouts azadi from India, why doesn't he also demand azadi from the Congress' dynasty rule. Netaji Subhash Chandra Bose who was the Congress President for two consecutive years, was the last elected president of the party. After 1939, the Congress didn't have a proper election to elect their president. Kanhaiya should fight for azadi from dynasty rule. The azadi they are talking about will disintegrate India.
SD: But he has made it clear several times that they were talking about azadi from caste oppression, gender discrimination etc.
CB: There I support them. But who brought religion into politics? Gandhiji brought religion in politics and then later caste crept in. We are not against students. But some students are misguided. So anyone who believes in nationalism should guide these students.
SD: Does guiding mean slapping sedition charge on students? Do you support that?
CB: Well this is a legal issue and I am not an expert. But this is a British law and I think there should be a review of the sedition law and the all other laws from the British era. Having said that, I believe slogans like Bharat ki barbaadi or Kashmir should secede from India or Gorkhaland should come up should be treated as an attack on the integrity of India. I can't say whether its sedition or not but its definitely an attack on India and steps should be taken to curb it.
SD: Does it make you nervous that your first electoral battle is against a seasoned and formidable leader like Mamata Banerjee? Do you feel the BJP has put you in a difficult situation by pitting you against TMC's strongest candidate?
CB: It is nice to fight against Mamata Banerjee than to fight against a non-entity. However, it is not a personality driven contest that I am fighting. My campaign is totally development driven. And Mamata Banerjee happens to be the TMC candidate from Bhowanipore constituency in south Kolkata.
It is true that she is a mass leader and has many years of experience behind her. But unfortunately she could not use her experience to run the government. Her contribution ended with the removal of the Left front. Beyond that she has miserably failed in running an efficient government. I think someone else should be given a chance. We have seen the TMC, we have seen the Congress and the Left Front. So why not the BJP in West Bengal?
SD: How confident are you of winning and are you the BJP's chief minsiterial candidate?
CB: I have been born and brought up in Bhawanipur. My ancestral home is there. I think the people of Bhawanipur will give me a chance not because I am from the Bose family but because I am making a sincere attempt to bring change in Bengal. As for your second question, it is for the party to decide who will be the chief minister if the party wins.
Edited by Abha Srivastava