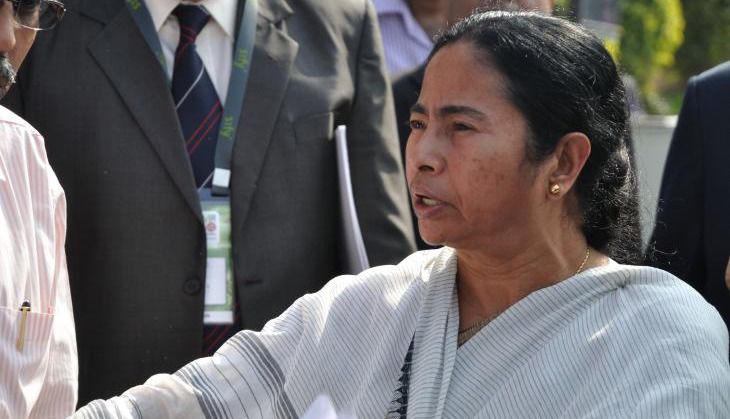 Looks like it is an all-out war between the Bharatiya Janata Party and the Trinamool Congress. First, Prime Minister Narendra Modi launched a verbal attack on West Bengal Chief Minister, at a rally in Asansol, with, "TMC has become a party of corrupt people. T stands for terror, M stands for maut (death) and C stands for corruption."
Countering PM Modi's remarks about the Trinamool Congress (TMC), Mamata Banerjee called Bharatiya Janata Party, 'Bhayanak Jaali Party'.
Never one to back down from a fight, Didi denounced the PM's words, saying his words did not suit someone of his position. Undaunted by the blistering attack and the insinuations cast on her for the Kolkata Flyover tragedy and the Sarada scam, Mamata also dared him to arrest her if they could.
Talking at an election rally in Asansol, Didi said: "I fight with my head held high. I never bow my head before anyone. The Prime Minister can arrest me if he so wishes, I don't care." Speaking in the unrestrained, unfiltered manner that is typical to Banerjee, she told the PM that she was not his 'domestic help' and alleged he spoke like an RSS volunteer.
"Making big speeches is easy but working for people is difficult. The Prime Minister spoke like a Swayam Sevak shakha worker," she said.
Wholly unhappy with Modi's public attack on her at Asansol, and every other time he is in West Bengal, Banerjee said that as the Prime Minister, Modi's words did not suit his post. "Whenever Modi ji comes to Bengal, he makes personal attacks which are in extremely bad taste. But just because the PM made personal attacks against me, I will not do the same," she exclaimed.
"I do not make personal attacks even if I am politically opposed to someone. I do not indulge in such personal attacks against (PM) Modi, or (CPI-M leader) Buddhadeb Bhattacharjee, even though I don't like their politics. It doesn't sit well with a prime minister to make such statements... On the radio, one hears only Modi's Mann ki baat, as if he is God," she added.
--
With inputs from IANS
--
Edited by Abha Srivastava