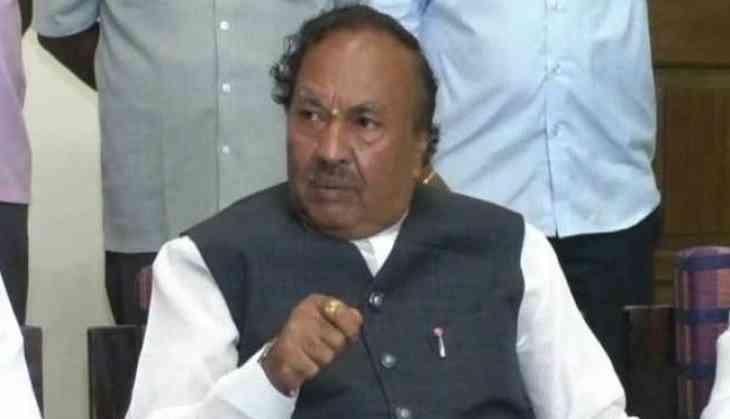 Karnataka senior BJP leader KS Eshwarapppa made a controversial remark days before of Lok Sabha elections. KS Eshwarapppa, former Deputy CM of Karnataka said that BJP will not field Muslim candidates in the state.
"Congress uses you only as a vote bank, doesn't give you a ticket. We won't give tickets to Muslims in Karnataka. Why? Because you don't believe in us. Believe us and we'll give you tickets and other things," Mr Eshwarapppa said in Kannada while addressing members of the Kuruba and minority communities in north Karnataka's Koppal.
The polling in Karnataka will be held in two-phase, 1 phase polling for 14 seats is scheduled on April 18 and the other 14 on April 23.
70-year-old Eshwarapppa is a member of the Kuruba backward caste. He was Deputy Chief Minister in 2012 has made controversial statements in the past too.
Last year in February, Eshwarapppa triggered controversies by his statement. He said Muslims who are with the Congress "are killers" while those linked with his party are "good Muslims". This statement was later rubbished by then chief minister Siddaramaiah.
"Muslims who killed 22 RSS and BJP activists are with the Congress and those who are good Muslims are with the BJP," Mr Eshwarappa had said in the backdrop of the alleged political violence in Karnataka.
Also read: Big jolt for Hardik Patel as SC rejects urgent hearing, set to get barred from contesting 2019 polls