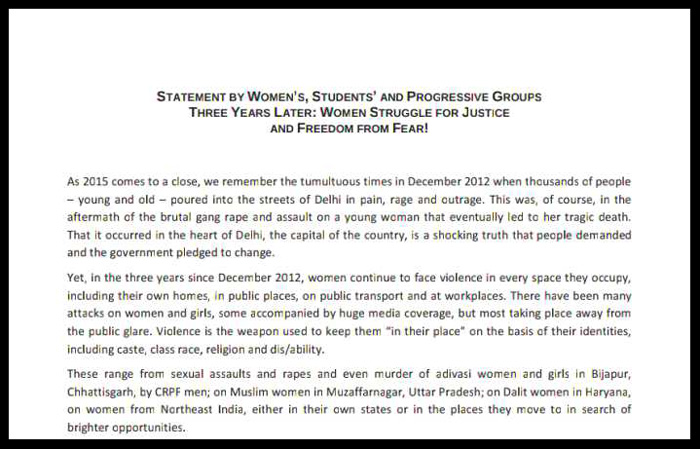 On 16 December, a group of 40 odd women, students and progressive groups have released a letter that opposes the demand for death penalty and castration.
This comes after mass anguish over the gang rape that occurred on the night of the 16th three years ago in the capital. Anguish that resulted in the demand for instant justice in the form of castration and death.
Opposed to that natural but dangerous retaliation, the letter reiterates that an eye for an eye is really no good. Interestingly, even in the Bhanwari Devi case, it was the women of the village who stood up against death penalty and castration.
Here are some arguments/conclusions reproduced verbatim from the letter:
1. The movement of December 2012 had raised the slogan of Bekhauf Azaadi, or Fearless Freedom for women and for all, and had specifically challenged moves to control women in the name of their own safety, and to use the fear of rape to justify patriarchal restrictions and surveillance on women's freedom.

2. We share the grief and have full empathy with parents and families of victims of violence. It is however important that we continue to place the issue of violence against women and children at the centre of discussions and not "victimhood".

We understand that one instance of sexual violence in a family sometimes takes a toll on the family as a whole and it is years before they can recover. In our struggle against violence we must be aware and ensure that we do not reinforce victimhood and prolong this suffering. They, victims and families need to heal, and their loss and grief must not be publicly paraded.

3. For us, this is a day that calls upon us to renew our vision of substantive, reformative and reparative justice for victims and survivors of sexual violence, as opposed to retribution against perpetrators. Such justice can only truly be achieved in a society that is both ethical and humane, and in which the survivor and her health and freedom are the focus of the procedures of the criminal justice, medical, and social welfare systems.

We condemn the impunity that most often accompanies acts of gender-based violence against women, girls, boys and transpeople. We assert their right to equality in the eyes of the law.

4. We state unequivocally that we are against draconian punishments like death penalty or chemical castration. We believe in reformative and reparative rather than retributive justice, which gives a chance for people - including juveniles - to change and turn their lives around.

5. We reject the logic of 'instant' vigilante justice and instead seek to strengthen the systems and due processes of justice, to ensure that these work for and not against victims.