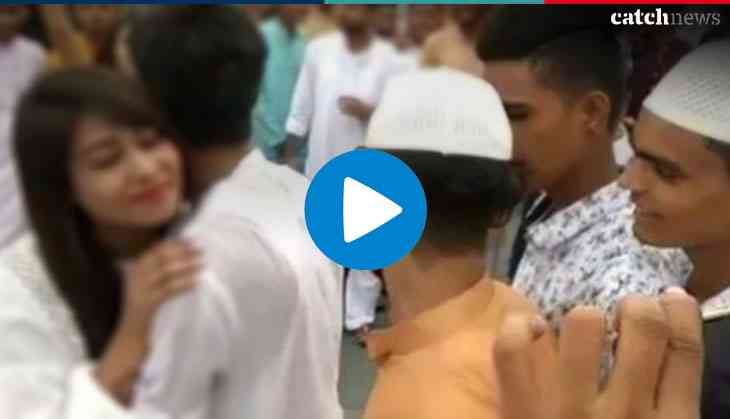 Festivals are the only way to forget all the grudges with our near and dear ones. In the country like India, there are so many festivals are being celebrated every year. Recently, Eid, one of the major festival of Muslims has been celebrated on Saturday, i.e. 16th June 2018. Not only Muslims but other religion people also celebrated the festival with all enthusiasm and joy with their families and friends.
Well, this is especially for our country which makes it unique among the other countries. Due to the Internet facility, people share their feelings on the social media and pours their wishes on any festivals. The same had happened on this Eid as from common man to a famous personality like Bollywood celebs, sports celebs etch all posted their wishes as well as their pictures of doing the celebration on Twitter, Instagram.
Now, an amusing video is doing the rounds on the social media in which a girl claimed to be from UP did something unique that she grabbed the eyeballs of everyone on this Eid.
Here's the video:
#Video मुरादाबाद: युवती ने गले मिलकर दी #Eid की बधाई, युवकों की लगी लाइन. pic.twitter.com/BH6JZhC6Mt

— बेबाक पत्रकार (@RoflRavish) June 18, 2018
As you have seen in the video that how a Muradabad girl hugged the locals to wish them Eid Mubarak. Well, Eid Mubarak is giving by hugging our close friends and family member but what this girl did had made everyone shocked and stunned. Especially on the micro-blogging site people were reacted differently, some took it in a funny way while some got angered over it.
Here's how Tweeple reacted:
Had he jehalat ki janwar pagal ho gaye sare

— Faiza khan(foziii) (@Faizakh89581127) June 18, 2018
इस लङकी को कीस ने भेजा मुस्लिम को बदनाम करने के लिए?

— R.s.s Shah( Riyaj) (@a3bb49af127248d) June 18, 2018
yeh bilkul gair islami harkat hai

— peyare khan (@peyarekhan1) June 18, 2018
इस्लाम के मानने वाले ऐसा कैसे कर सकते है-?
जबकि इस्लाम मे गैर मरहम औरत की तरफ एकटक देखना भी गुनाह है।

— अंकिल (@salimpatel29) June 18, 2018
देश में 1000 लड़कों पर 940 लड़कियां है.. ये जो 60 लड़के बच जाते हैं ना.. वो इस लाइन मे लगे है😂😂😂

— Akram Balkhi (@balkhi07) June 18, 2018
line mein lage hue saare tharki hai😂

— Tulsi (@tereaangnki_) June 18, 2018
भाईचारा तो सुना था. आज बहन चारा भी देख लिया,

— sanghar_ad (@Sanghar_ad) June 18, 2018
ये जितने लड़के इस तरह गले मिल रहे हैं इस लड़की से, क्या ये अपनी बहन को इस तरह किसी लड़के से ईद मिलने देंगे

— Kapil Gautam🇮🇳 (@Indian499) June 18, 2018
Do you also think it as 'gair Islami'? Comment your opinion..
Watch Video:
Also read: UP Police Constable Recruitment 2018: At least 16 miscreants arrested by UP STF in connection with cheating