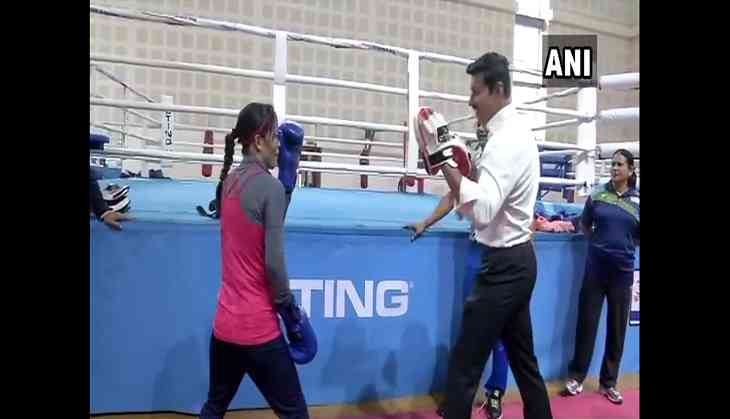 Mary Kom and Rajyavardhan Rathore
Boxing champion MC Mary Kom was today in Delhi for an event and she has left a treat for her Twitter followers, as she had a boxing bout with Sports and I&B minister Rajyavardhan Singh Rathore, and the boxer tweeted the video as well.
Almost two hours ago, Mary Kom posted a video in which she was seen playing a boxing match with Sports Minister Rajyavardhan Rathore and both were playing in a typical boxing bout style. Marky Kom was seen throwing punches, and sharing some useful tips and tricks of the sports with the minister. They also joked around while playing the match.
"Seeing is believing. Thank you Hon'ble @Ra_THORe ji for all the supports and encouragement's. #PunchMeinHainDum," tweeted Mary Kom.
Mr Rathore - likewise an Olympic medalist in shooting - is seen giving his best to cheers and commendation. His endeavors impressed Mary Kom - who plainly had the high ground. She expressed gratitude towards him for his help while sharing the video.
#WATCH: Sports Minister Rajyavardhan Singh Rathore in a friendly boxing bout with boxing champion Mary Kom at Indira Gandhi Stadium in Delhi. pic.twitter.com/NXRaxqAkPQ

— ANI (@ANI) November 1, 2018
Earlier in the day, Rajyavardhan Rathore expressed condolences for the death of DD cameraman Achyutanand Sahu which was organized by the Prasar Bharti and said, "There are many media houses, but Doordarshan and DD News are national broadcasters. Just like Army jawans are involved in serving the country, we are also involved in serving the nation. We have to cover a lot of difficult domains through our camera or our pen. You have the responsibility of disseminating news to the entire country." A ghastly attack by the Maoists killed 2 security personnel as well.
Also read: Lok Sabha Election: PM Narendra Modi's brother Prahalad Modi to support Mamata Banerjee's TMC