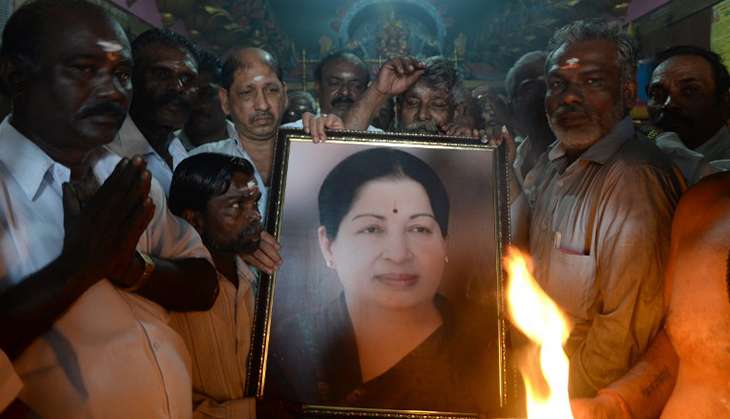 Few Indian politicians can claim to command the devotion and loyalty that 68-year-old Jayalalithaa Jayaraman did. For her supporters, Jayalalithaa was a lot more than just the five-time Chief Minister of Tamil Nadu and the leader of the All India Anna Dravida Munnetra Kazhagam (AIADMK). She was their Amma, their Puratchi Thalaivi (Revolutionary Leader).
For an upper-class Brahmin woman who dominated the gossip rags for her acting stint and subsequent scandal-inducing association with MGR from 1960-80, her rise in a political landscape, dominated by Dravidian parties and male politicians, has been nothing short of a celluloid pot-boiler. A fitting tribute, perhaps, to her seemingly magnetic hold over the people of the state.
While her personal life has been covered extensively by the media, her supporters too, have been a media constant.
Over her 34-year-long, tumultuous political career, Jayalalithaa's supporters have often made news for their almost deity-like adulation of the iconic politician. From organising massive, multiple prayer ceremonies for her, to executing a crucifixion for her birthday, to making statues in her likeness using blood, to depicting her as goddess Adi Parasakhthi and even the Virgin Mary, her fans have often raised eyebrows with their bizarre antics. During the high-points in her life, Jayalalithaa's supporters have been known to distribute sweets on the roads, sometimes physically forcing passersby to join in the celebrations. On the other hand, news of her conviction or ill-health often sparked panic across the state, with many media outlets reporting heart attacks or suicides among her massive follower base.
Here is a list of some of the things Jayalalithaa's supporters have done over the years:
1) The Tamil Nadu CM was admitted to Chennai's Apollo Hospital in September this year after she took ill. In the weeks that followed, a number of her supporters held special pujas and conducted religious rituals to pray for her speedy recovery. One man used metal metal hooks to hang from a crane:
2) Other supporters, including former ministers Valarmathi, CR Saraswathi, engaged in the 'Mann Soru' ritual - which involves eating a meal off the floor - for her recovery.
3) A 50-year-old yogi, Chatrapathi, walked for about two kilometers on his hands to celebrate Jayalalithaa's acquittal in the disproportionate asset case in May 2015.
4) Under Amma's reign, a newcomer in Tamil Nadu would be forgiven for mistaking 24 February to be a festival. Amma's birthday has always been celebrated with pomp and splendour by her followers. On her 68th birthday, a reported 688 people got a tattoo of her face on their forearms.
On the day, AIADMK MLA Karrupaiah floated in a pool of water for 48 minutes while holding the party flag in his mouth, calling it a 'Jalapradakshnam' ritual that would ensure her well-being.
In February 2015, her supporters organised a number of special programmes around Tamil Nadu to mark her 67th birthday. During one such ceremony, her supporters pierced themselves with spears and hooks.
To mark the occasion, Shihan 'Karate' Hussaini, a martial arts expert from Chennai, crucified himself for six minutes and seven seconds, demanding that she be reinstated as the Chief Minister of Tamil Nadu. Warning: Graphic video
In 2013, Hussaini made a statue of Jayalalithaa, by freezing 11 litres of blood - including some of his own - for her 65th birthday. The stuntman also made news a few years ago when he drew a portrait of Jayalalithaa with his blood, after he received land for a karate institute.
On her 48th birthday, a party leader promised to gift silver anklets all girls born on that day. Sakkubai, a former AIDMK legislator, walks around the Periypalayam temple in Tiruvallore dressed only in neem leaves on the day - a practice she has continued for at least two decades.
In October 2014, her fans tonsured their heads to celebrate her bail in the disproportionate assets case.
Chennai: Supporters gather outside Jayalalithaa's residence, raising slogans "long live Amma" #Jayalalithaa pic.twitter.com/Wd0gdILRJ4

— BJP (@BJPIndiaBJP) May 11, 2015
In 2012, her supporters released a petition, using their bloody thumbs, to protest the disproportionate assets case.
It's amma all over! #JayaVerdict @ibnlive @ibnkhabar pic.twitter.com/VaEKgKq5CT

— pallavi ghosh (@_pallavighosh) May 11, 2015
Amma of all tasteless self-promotions pic.twitter.com/R2UvBKCf50

— IndiaExplained (@IndiaExplained) December 4, 2015
There's more!
An Amma supporter named T Ravindran reportedly declared himself dead and underwent cremation rites, claiming it would bring good luck to Jayalalithaa.
A Chennai-based man named Durai Koundar has been reportedly offering prayers to a statue of the CM since 1993.
Her party leaders have often drawn criticism for their sycophant behaviour.
While those looking in from the outside may find it difficult to comprehend the Amma-craze, for those living in Tamil Nadu, the unwavering loyalty she commanded in the state has been but a way of life that has been around them for the last three decades.
But is it really loyalty? Or is it sycophancy? We'll leave that to you to judge. But there is no arguing the fact that Jayalalithaa was one of the most iconic Indian politicians of her time.
--By Aishwarya Yerra and Blassy Boben