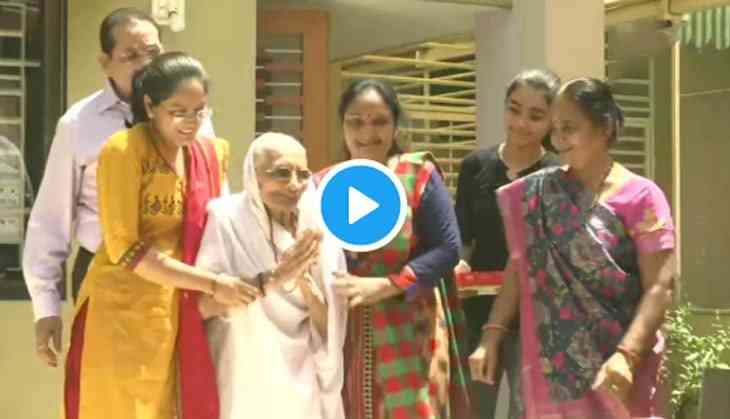 As now counting trends shows clear data about PM Modi's big victory in the country, his fans and supporters have gathered to celebrate the victory of the saffron party.
Also, Modi's supporters have gathered at the residence of his mother, Heeraben, 98, today in Gandhinagar. Modi's mother greeted the supporters and thanked the workers for their support.
The supporters also crying outside her residence, 'Har Har Modi', 'Jai Jai Modi' and 'Vande Mataram'.
See video:
Gujarat: Prime Minister Narendra Modi's mother Heeraben Modi greets the media outside her residence in Gandhinagar. pic.twitter.com/yR2Zi9eeL1

— ANI (@ANI) May 23, 2019
According to the EC website, BJP and its allies are ahead in 331 seats till 12:00 while Congress and its allies have bagged 29 seats to lead in 94 seats.
Prime Minister is leading by over 1.8 lakh votes in his constituency of Varanasi in Uttar Pradesh.
Earlier on 23rd April, PM Modi's mother cast her vote at the polling booth in Ahmedabad's Raisan.
PM Modi also visited his mother's residence to seek her blessings for the Lok Sabha elections. As a blessing, Heeraben gifted her son a shawl, coconut and sweets.
As per the Election Commission, 2019 Lok Sabha Elections created history as this year final voter turnout stands at 67.11 percent.
Also read: Sushma Swaraj congratulates PM Modi as he leads in Varanasi; here's what she said