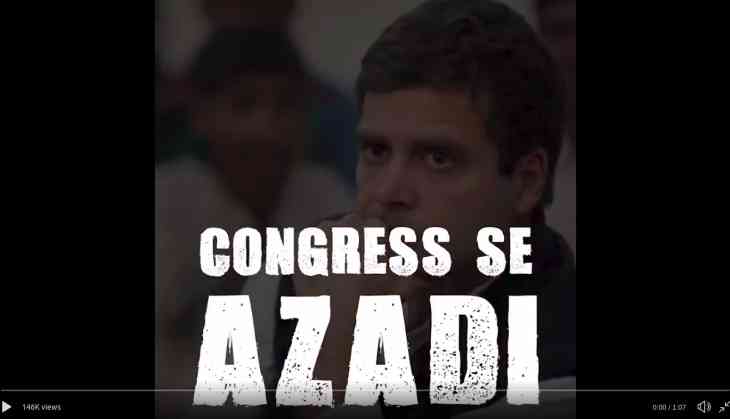 'Azadi' video recreated by Congress, BJP
As the JNU incident completes 3 years, both the national party's of India Congress and BJP have recreated the 'Azadi' song from the upcoming Bollywood movie 'Gully Boy' and have released parody videos.
The BJP and the Congress have realized that it's the social media which can turn the tables around for any party in the upcoming Lok Sabha election of 2019.
Reiterating the need to highlight the drawbacks of the government, Congress in its video has highlighted the hitting points namely unemployment, jobs, healthcare, education, inflation, demonetization etc.
While @RahulGandhi will stay up all night wondering what new lies to peddle tomorrow morning, we leave you with this goal for 2019.

Have a happy friday night, people! :) pic.twitter.com/WOXOJ1QPYO

— BJP (@BJP4India) February 8, 2019
The BJP, in its response has made the video where it has submerged the entire Nehru-Gandhi family and the dynastic politics being played out by the Congress party along the lines of Rahul, Priyanka and Sonia Gandhi.
The Week reported, "While the Azadi videos show both Congress and BJP are ramping up their social media narrative to reach out to more voters, it is welcome publicity for Gully Boy, which releases on February 14. And the BJP may have to deal with some uncomfortable questions given the Azadi slogans had their origins in a speech by Kanhaiya Kumar, a vocal critic of the party. The Congress's Azadi video features scenes of the protests at JNU, which erupted three years ago."
Also read: 3 years of JNU incident: From Azadi, freedom of expression to being 'anti-national,' what all has changed in
डर के आगे आज़ादी। #Azadi pic.twitter.com/WGHw3Q7Ndo

— Congress (@INCIndia) February 8, 2019