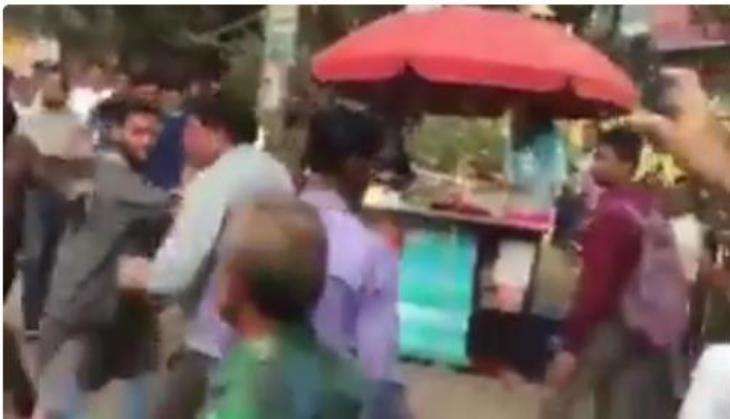 While Prime Minister Narendra Modi "saluted the countrymen for supporting the decision" of demonetisation all the way from Japan, where he is currently on a three-day visit, the common man in India is witnessing and undergoing a different situation entirely.
After ruling that Rs 500 and Rs 1,000 notes are no longer legal tenders, the PM had said that this move will flush out black money from the country. Today, he added in Japan's Kobe, "Desh ke gareebon ne ameeri dikhayi, ameeron ki gareebi toh bohot baar dekhi hai."
Also Read: Limited inconvenience, PM Modi? Baby dies in hospital after hospital refuses to accept old notes
Of course, in India, people have been standing in queues outside banks and ATM booths and losing their patience due to unavailability of funds. And the situation seems to be going out of control now with reports of numerous clashes across India, outside banks and ATM booths. In Madhya Pradesh's Chatarpur region, a ration shop has also reportedly been looted by people.
The death of an infant near Mumbai after a hospital's refusal to accept deposits in Rs 500 denominations has also been reported.
...people have money but can't use it. Unable to buy food, they have started to loot. The honest Indian tax payer has been brought down. pic.twitter.com/J5zT5uUlZE

— Gaurav Pandhi (@GauravPandhi) November 12, 2016
...and this one from Ahmedabad. Complete countrywide chaos. People are angry, losing their patience. They want their money to feed families. pic.twitter.com/oaOjEpCZp8

— Gaurav Pandhi (@GauravPandhi) November 12, 2016
According to reports, a middle-aged homemaker in Telangana committed suicide on learning that bank notes of Rs 54.40 lakh she had stored in denominations of 1,000 and 500 rupees were "as good as waste paper".
Kandukuri Vinoda, 55, had sold 12 acres of agricultural land for Rs 56.40 lakh. From this, she had spent Rs 2 lakh on treatment for her husband who suffered a paralytic stroke and kept the remaining amount to spend on her daughter's marriage and buy another piece of land, reports Hindustan Times.
Also Read: Here's what Arvind Kejriwal, Kapil Sibal, other political leaders have to say about 'surgical strike' on black money

In another case, a Faizabad-based businessman died of a heart attack after Prime Minister Narendra Modi announced that Rs 500 and Rs 1,000 notes will be illegal tenders, reported the Financial Express.
While the govt wants you to believe "all is well", it is getting down to this. People have begun to fight outside banks/ ATMs. This at NFC! pic.twitter.com/lFt6NgzhPv

— Gaurav Pandhi (@GauravPandhi) November 12, 2016