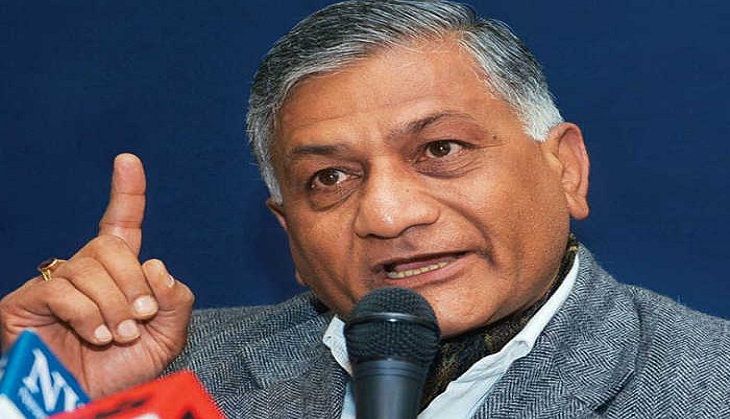 Current Army chief General Dalbir Singh has alleged that MoS External Affairs VK Singh tried to stall his promotion, under "false, baseless and imaginary allegations of lapses". Here's a quick look at the chief points mentioned by Dalbir Singh in the court affidavit:
1. Dalbir Singh alleges that General VK Singh the "then COAS (chief of army staff)" tried to deny his promotion with "mysterious design, malafide intent and to arbitrarily punish" him for extraneous reasons, said The Indian Express.
2. "In 2012, I was sought to be victimised by the then COAS, with the sole purpose of denying me promotion to the appointment of Army Commander," alleged Dalbir Singh in response to a petition moved by Lt Gen (retd) Ravi Dastane, who alleged favouritism in Singh's selection as Army Commander.
3. According to sources, the allegations are not new. Dalbir Singh had raised the issues against VK Singh before the Armed Forces Tribunal in 2012. "General Dalbir then wasn't the army chief nor was General VK Singh a minister. Since the complainant filed the case in Supreme Court, Dalbir Singh has re-submitted the affidavit."
4. In 2012, Dalbir Singh was placed under a "Discipline and Vigilance" (DV) ban for alleged "failure of command and control" over an unsuccessful search operation in Assam's Jorhat on 20 December, 2011.
5. Dalbir Singh was then a senior commanding officer based in Assam. He has said in his document to the Supreme Court that on the day of the Jorhat operation, "I was away on part of annual leave and rejoined duty on 26 December 2011."
6. Asserting that there was not an "iota of evidence" against him, General Dalbir Singh said that a show cause notice issued to him by General Singh was "illegal and premeditated" and led to an illegal ban. The case, he said, "smacks of a motivated, biased, arbitrary and malicious intent to punish me, which the then COAS executed apparently as planned by him".
7. Dalbir Singh's promotion was finally cleared by General Bikram Singh who reversed the ban after taking over from VK Singh in 2012.