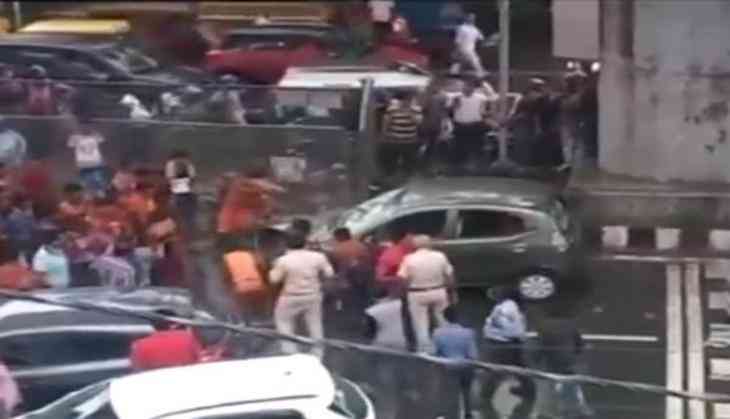 A group of saffron-robed Kanwariyas were caught on camera reportedly damaging a car of a woman in Delhi's Moti Nagar on Tuesday. In the video that has been making rounds on social media, dozens of Kanwar pilgrims can be seen smashing the windows of the car with sticks and then tipping it over as policemen and spectators watch without stopping them. The car had allegedly brushed past them on a road in Moti Nagar, which led to the attack, reports news agency ANI.
The passengers, however, rushed out to safety as their car came under attack. The police said that no complaint has been filed till now. While the onlookers watched the action in a silence as the saffron-robbed men shatter the door and windows of the car.
Meanwhile, the Delhi Traffic Police had recently sent out an advisory for the Kanwariyas who would be reaching cities across the country. They had also made preparations to manage the movement of Kanwariyas and regular commuters to ensure minimum inconvenience to the general public, reported News18.
Kanwar Yatra is an annual pilgrimage by the Lord Shiva devotees who walk from their place to Haridwar, Gaumukh, Gangotri in Uttarakhand to fetch a pot filled with Ganga water during Shravan, the fourth month of the Hindu calendar. The Ganga water is used as an offering to their local Shiva shrines on Amavasya or the New Moon day or Shivaratri day.
Also read: Karunanidhi death: Kalaignar, a five-time CM who left property worth crores after death; figures will give you shock