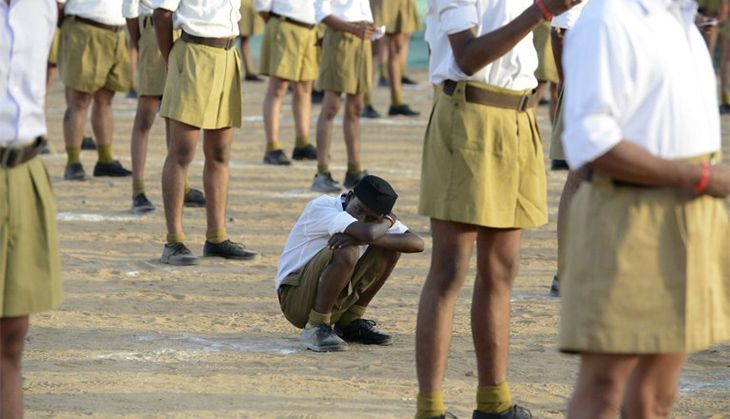 The RSS in Goa is divided over the move by its sacked leader Subhash Velingkar and his supporters to float a parallel outfit as the Sangh's "Goa prant" and function independently of the parent body.
"I am still with RSS with Nagpur headquarters. You cannot have a separate RSS prant like this. I am not with the group which has done so," Datta Bhikaji Naik, a senior RSS leader in Goa, told PTI today.
Even as a large number of RSS workers and supporters, including some office bearers, have pledged support to Velingkar, who was removed as the state chief recently, a sizable number of swayamsevaks are averse to part ways with the Sangh.
Naik said, in his individual capacity, he has been supporting the demands of Bharatiya Bhasha Suraksha Manch (BBSM) which was floated by Velingkar to campaign for primacy of regional languages as medium of instruction as part of which he has taken on the BJP government in the state.
"I don't know what BBSM will do in future," Naik said, referring to its announcement to float a political party ahead of the Goa Assembly polls in March 2017. Velingkar was "relieved" from his charge as Goa Vibhag Sangh Chalak by RSS after he along with BBSM leaders announced the intention to form a political outfit to fight BJP in the forthcoming polls.
Another senior leader Ratnakar Lele also sought to distance himself from the move. "I am not with them," he said, adding that 80 per cent of the swayamsevaks would not go with the new prant.
Lele said the decision to have a separate prant by Velingkar-led group was unfortunate.Velingkar was sacked as the chief of RSS in Goa after he crossed swords with the BJP government over the medium of instruction issue with members of his outfit even showing black flags to party chief Amit Shah recently.
Velingkar, who claimed that hundreds of RSS workers and supporters have rallied behind him, yesterday asserted that the Sangh unit in the coastal state will function independently of the parent body, at least till the Assembly polls.
He said RSS in Goa will detach itself from the main unit (parent body headquartered in Nagpur) till the state Assembly elections and after that they will request to get associated with the Sangh.
However, RSS had debunked Velingkar's claims that the local unit will function independently, saying none of its units can dissociate from the outfit and new office bearers for the state will be announced soon.
Velingkar, the convener of BBSM which is fighting for withdrawal of grants to English medium schools and for the cause of promoting regional languages as Medium of Instruction (MOI), has been at loggerheads with the saffron party as well as Chief Minister Laxmikant Parsekar.
--PTI