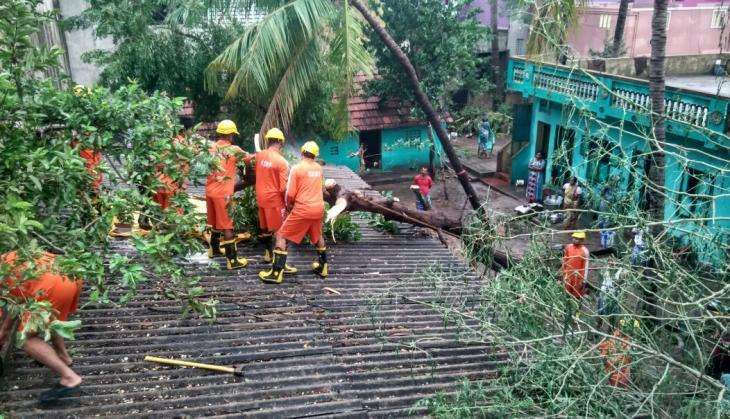 Cyclone Vardah wreaked havoc in Tamil Nadu and Chennai, as it brought heavy rainfall and uprooted hundreds of trees in the state, bringing the road transport to a halt.
Vardah hitting the Tamil Nadu coast and making landfall about 15 km away from the capital, struck with a wind speed of 120 and 130 kmph. NDRF evacuated at least 20,000 people and according to media reports, 10 people have died due to the cyclonic storm.
Following the storm, schools and colleges in Chennai, Kanchipuram and Tiruvallur will remain shut.
After the cyclone touchdown, heavy rainfall caused the roads to flood with ankle-deep water, as well as the airport; and tree branches, police barricades, banners, glass sheets and cars lay on the streets. With the power supply cut for precaution by the government, there was no electricity in the city.
Two fishermen were reported missing off the Andhra Pradesh coast in Kakinada and the Coast Guard has deployed ship for search and rescue operations. Though no major loss of life or property has been reported from Andhra Pradesh so far, heavy rains lashed Chittoor and SPS Nellore district, affecting normal life.
According to media reports, this is the second worst cyclone which Chennai witnessed after the 1994 cyclone - which hit the city at the speed of 132kmph.
PTI quoted a senior MeT officer as saying, "After 1994, this is the first very severe cyclonic storm to hit Chennai coast. The storm has completely crossed the coast as expected (this evening)."
Cyclone Vardah will reach Karnataka on 13 December, pass over south Goa on 14 December.