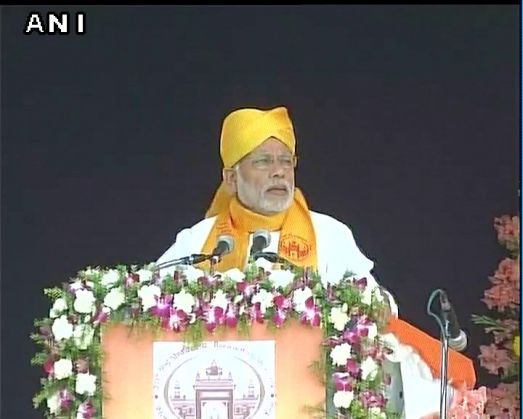 A student of Banaras Hindu University (BHU) was reportedly beaten up by BJP workers after Prime Minister Narendra Modi addressed students at the Centenary Convocation.
As anticipated, the show didn't go smoothly. After the the Prime Minister finished his speech, a student reportedly shouted slogans demanding Students' union and students' polls at BHU.
WATCH:Student in PM's program in BHU raises slogans,demands revival of Student union, slapped by someone in audiencehttps://t.co/SyaeOpKWP0

- ANI (@ANI_news) February 22, 2016
Earlier, the Indian Express had reported that despite Union Minister of State for Social Justice and Empowerment Vijay Sampla's request that no protests should occur at the PM's BHU event, a certain section of students and teachers decided to go ahead with their protests against Dalit Scholar Rohith Vemula's suicide.
This is the second time this year that the Prime Minister's speech at a University was disrupted. Last month, as soon as he began his address at the sixth convocation of Babasaheb Bhimrao Ambedkar University in Lucknow, two students in the audience shouted "Narendra Modi go back".
During his speech at BHU, the Prime Minister underlined the need for the youth of the country to innovate and solve problems plaguing the country. He, however, refrained from making any comment on the ongoing agitation at Jawharlal Nehru University in the national capital.
Modi also denied a PhD degree by the Banaras Hindu University (BHU), saying he is indebted to the people of the holy city. "I want to apologise to the vice-chancellor and registrar. I had received a letter stating that I would be given a PhD degree. I have humbly declined it," he said.
With inputs from ANI