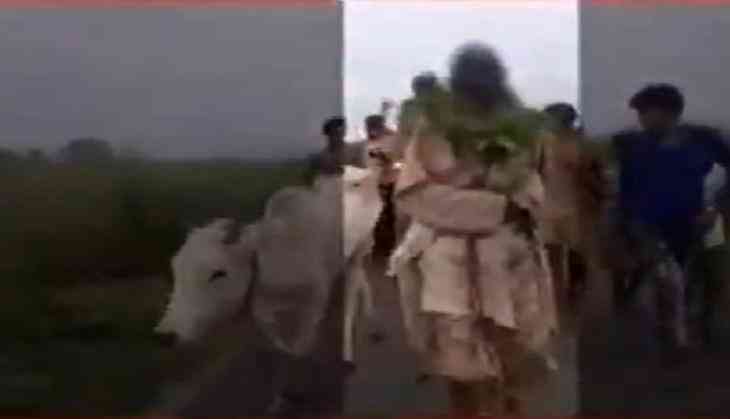 In yet another mob lynching incident, a 70-year-old farmer was allegedly thrashed and assaulted by a mob in Balrampur village of Uttar Pradesh. The incident reportedly took place on 31 August when the man left his cattle to roam free on the fields. This left other villagers on suspicion of him abandoning a sick cow which led to the formation of an angry mob.
The angry mob suspected that Kailash Nath Shukla, a septuagenarian resident of Lakshmanpur village in the district, had abandoned the cow, who is sick. The man's head was shaved off and face was painted black after which the mob tied him to a cow with chains and paraded him around the village for over two hours.
However, The old man, who suffered serious injuries on his head, chest and stomach, was admitted to the district hospital. According to police sources in Lucknow, Shukla was taking the cow to a veterinary hospital for treatment, when the incident occurred. ''The rope with which I was holding the cow suddenly snapped and the cow started running on the road... I was trying to the catch the animal when some people caught me and accused me of abandoning the cow,'' Shukla said.
The face of a 70-year-old man was blackened, he was tonsured, thrashed and garlanded with creepers and was later paraded across the village. The several instances of mob-lynching in different parts of the state and across the country over cow slaughtering and smuggling has been reported. A few days back, a youth was lynched by a mob which suspected him of stealing a buffalo.
Also read: Hardik Patel released his 'Will' on the 9th day of hunger strike; this is what is written in it