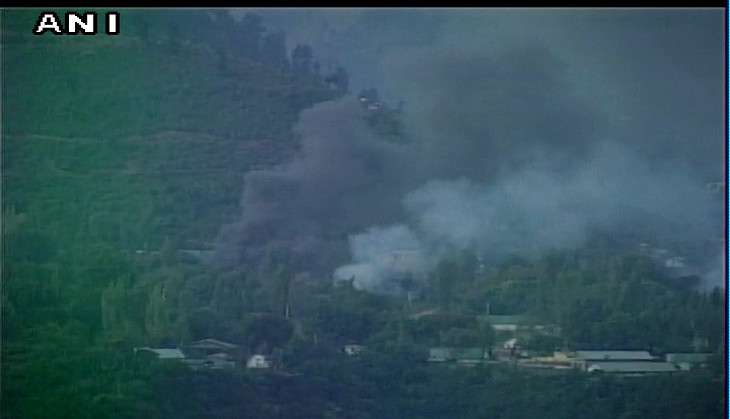 With 17 Army soldiers being killed in a major encounter with terrorists in Uri, Jammu and Kashmir, Deputy Chief Minister Nirmal Singh on 18 September blamed Pakistan for the terror attack, saying that this was a massive conspiracy against India, adding that the Centre is looking into Islamabad's role in the matter.
Speaking to ANI, Singh stated that the current situation of unrest in the Valley is the result of the proxy war, in which Pakistan has been indulging since ages.
"They [Pakistan] are doing everything in their power to create havoc in Kashmir. The Centre is serious over Pakistan directly sending militants into Kashmir, and is taking this very seriously. This is a very big conspiracy against India, in which terrorists and separatists are active," he said.
In a statement, the Army said that a group of heavily-armed terrorists targeted the rear administrative base of a unit at Uri, and in the counter action, four terrorists have been eliminated.
"The administrative base had large strength of troops of units turning over after their tour of duty who were stationed in tents/temporary shelters which caught fire, and resulted in heavy casualties. We salute the sacrifice of 17 soldiers who were martyred in the operation," the statement added.
Meanwhile, Defence Minister Manohar Parrikar and Army Chief General Dalbir Singh will visit the Valley to take stock of the situation.
After postponing his forthcoming visits to the United States and Russia in the wake of the encounter in Uri, Union Home Minister Rajnath Singh has instructed Home Secretary Rajiv Mehrishi and other senior officers in the Ministry of Home Affairs to closely monitor the situation in the Valley.
A high-level security meet was held at Rajnath's residence, in which senior MHA and MoD officials were present.
"Keeping the situation of Jammu and Kashmir in mind and in the wake of terror attack in Uri, I have postponed my visits to Russia and the USA . Spoke to Governor & CM of Jammu & Kashmir regarding the terror attack in Uri. They have apprised me of the security situation in the state," Rajnath said in a series of tweets.
Around four terrorists attacked the Army Brigade's headquarters in Uri to which the security forces gave a fitting reply.
The entire town has been sealed and security on the vital roads connecting Line of Control (LOC) has been beefed up.
The Army sent three choppers from army's 19 divisional headquarters in Baramulla to Uri.
Reportedly six soldiers have been injured out of which three have been airlifted to the nearest hospital.
Para Commando troops were airdropped into the conflict zone to fortify the response by the defence.
Intense firing and explosions were heard in the area and the encounter site is nearly 90 kilometres north of Srinagar.
-ANI