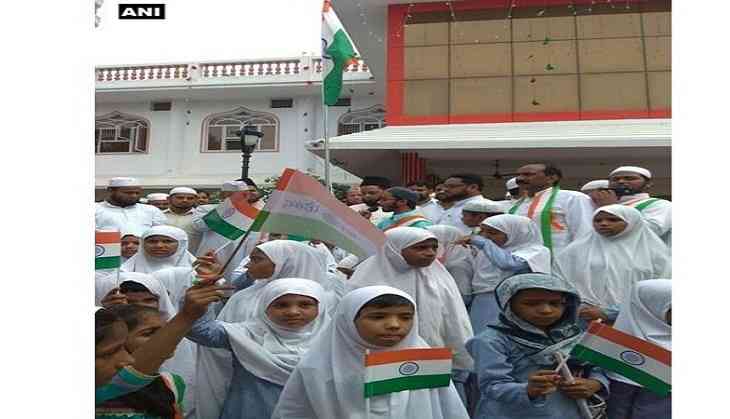 Amidst mix reactions over the Uttar Pradesh Government's directive to record Independence Day celebrations in madrassas (Islamic Schools), Lucknow's Firangi Mahal Madrasa unfurled the tricolor today.
Agra's Afzal Ul Uloom Madrasa also celebrated the day of independence.
However, earlier on Monday, a Muslim cleric opposed the government orders making it mandatory for madarsas to unfurl national flag and sing national anthem on Independence Day.
Uttar Pradesh and Madhya Pradesh have directed the madarsas in the state to unfurl the national flag and sing the national anthem on the Independence Day.
Speaking to ANI, Mufti Mukkaram, a cleric from Delhi, said such orders shouldn't be passed which question the loyalty and patriotism of the Muslims.
"Such orders give a wrong impression about Muslims. We unfurl the national flag a day or two before Independence Day. But to doubt the Muslims or looking at them with suspicion is wrong," Mukkaram said.
He argued that it is objectionable for people to believe that Muslims are not patriotic or are anti-nationals.
"We (Muslims) have contributed a lot to the country. There should be no reason to cast any doubts over our patriotism." He added.
Earlier on August 11, Madhya Pradesh Madarsa Board has followed in the Uttar Pradesh Madrasa Shiksha Parishad's footsteps and has ordered all 256 madrasas in the state to unfurl the national flag and recite the national anthem on August 15.
The Madrasa Board on Friday directed the youth to follow the order, record the video, click pictures of the event and send it to the chairman of the board.
The board has also asked the students to take out a ' Tiranga rally' on the day.
-ANI