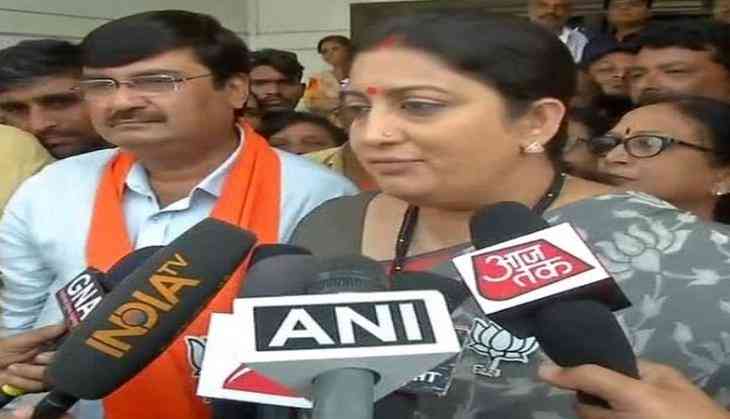 Information and Broadcasting Minister Smriti Irani on 1 December expressed her confidence in the Bharatiya Janata Party's (BJP) win in the upcoming Gujarat assembly elections, contending that the results of Uttar Pradesh civic polls were a proof of the "unpopular leadership" of the Congress Party.
"Irrespective of what the Congress Party is trying to mount, the results in Uttar Pradesh where Congress is wiped out yet again is indication of how unpopular their leadership is," Irani told reporters here.
The Union Minister was alluding to the Uttar Pradesh civic polls. The counting is underway today, and the BJP is leading with a great margin.
Irani said that the "low shots" taken by the Congress Party were going to adversely affect its chances in the Gujarat polls.
"Rahul Gandhi and his party called Modi ji 'Maut ka Saudagar', called Gujaratis 'gadhe' (donkey), and now if they are calling him a 'Dalal', then they will face the repercussions in the upcoming elections," she said, adding, "The desperation of Congress Party is very evident in the derogatory statements they make."
Taking a jibe at Congress vice president Rahul Gandhi who has been continually critical of development under the BJP government, Irani said, "I don't think the public comes to listen to facts from Rahul Gandhi. Both the public and journalists know that when it comes to facts, Rahul Gandhi is on the weaker side."
Irani also quipped that people of Gujarat knew Gandhi's "temple-hopping" is motivated by intentions of accruing votes.
Rahul Gandhi has been visiting various temples, apart from conducting campaign rallies in Gujarat.
-ANI