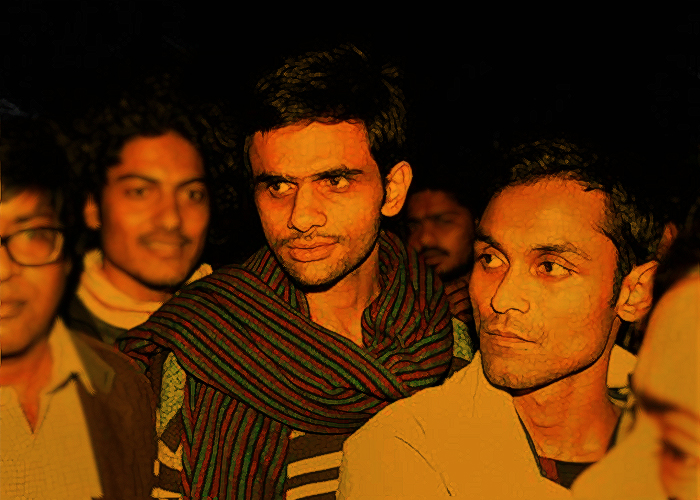 Jawaharlal Nehru University students Umar Khalid and Anirban Bhattacharya are on their way to the university after their release from jail today. The duo, who have behind bars since since 23 February, were given interim bail for six months. They will address JNU students shortly.
Family members of Khalid were"pleasantly surprised" at the Court order. Speaking to Catch her elder sister Kolsum Fatima said that the two were on their way to JNU and the entire family would be meeting him for the first time there.
Recalling a conversation between her mother and Umar after the order was announced she said: "My mother asked azaadi mil gayi? But Umar said no as he was still in the Police van."
His sister also said that Umar would be talking about Delhi University professor Saibaba, who has been in jail for his alleged links with the Maoists and Professor SAR Geelani, who is also behind bars on charges of sedition."Professor Saibaba is 90 per cent disabled and being in jail is a huge inconveniencefor him as he can't even use the washroom on his own. At least Umar and all are young people. As for professor Geelani, very few people are talking about him. I think they will address these issues, when they speak."
Earlier in the day, Umar and Anirban were released by a Delhi court after the judge took into consideration the fact that they did not have any previous criminal record.
Comparing their case with JNUSU president Kanhaiya's Additional sessions judge Reetesh Singh also ruled: "Besides the ground of parity vis-a-vis release of Kanhaiya Kumar on bail, I deem it appropriate to release both the accused on interim bail for a period of six months subject to them furnishing a personal bond in the sum of Rs 25,000 with one surety of the like amount"