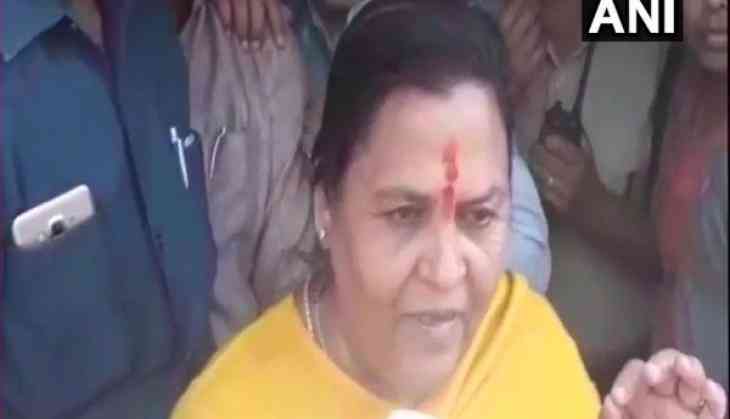 Senior Bharatiya Janata Party (BJP) leader and Union Minister Uma Bharti has requested Ganga activist Swami Sanand to end his hunger strike.
The spiritual leader has reportedly been fasting for 13 days citing cleanliness-related concerns over River Ganga.
"Prior to Baba Ramdev, Shri Pranava Pandya Ji and Sanand Swamiji (Shri GD Agarwal) of Gayatri family also expressed their concerns about the work of the Ganga. Shri Sanand Swamiji has been sitting on hunger strike. I have requested him to end the strike," she tweeted in Hindi.
बाबा से पहले गायत्री परिवार के श्री प्रणव पांड्या जी तथा सानंद स्वामी जी (श्री जी डी अग्रवाल) ने भी गंगा के कार्य के विषय में अपनी चिंता व्यक्त की है। श्री सानंद स्वामी जी तो अनशन पर ही बैठ चुके हैं। मैंने उनसे भी अनशन तोड़ने का अनुरोध किया है। pic.twitter.com/VddgSlGLEz

— Uma Bharti (@umasribharti) July 3, 2018
Recently, Ramdev had compared the Union Minister to the current in-charge of the Ganga rejuvenation ministry, Nitin Gadkari, saying that during the latter's tenure, files related to the Clean Ganga mission were cleared faster than during the former's tenure.
In an open letter, Bharti said she was surprised to see the Yoga Guru drawing a parallel between her and Gadkari, adding that she was confident of having Ramdev's blessing at all times.
परसों मेरे एवं आदरणीय बाबा @yogrishiramdev जी के बीच में जो खुला संवाद हुआ उनमें से कुछ तथ्यों की पुनरावृत्ति जरूरी है। pic.twitter.com/iJ97by7tqV

— Uma Bharti (@umasribharti) July 3, 2018
Soon after, Ramdev apologised on Twitter over his remark.
"I have a spiritual brother-sister relationship with @umasribharti (Uma Bharti). I had no intention of hurting her. My purpose was to point to the initial and administrative difficulties coming to the Ganga's action plan. Her Ganga-allegiance, fidelity and national fidelity are admirable."
पूज्य @umasribharti जी के साथ मेरा आध्यात्मिक भाई-बहन का संबंध है। उनके सम्मान को आहत करने की मेरी कोई मंशा नहीं थी। मेरा मकसद गंगा की कार्ययोजना पर उन्हें आ रही प्रारम्भिक व प्रशासनिक कठिनाइयों की ओर इशारा करना भर था। उनकी गंगा-निष्ठा, धर्म-निष्ठा और राष्ट्र-निष्ठा प्रशंसनीय है pic.twitter.com/k88ilS6Y6l

— Swami Ramdev (@yogrishiramdev) July 1, 2018
Meanwhile, the BJP leader requested Ramdev, Swami Sanand, Sri Sri Ravishankar, Sadguru and other spiritual leaders to be patient till October.
She also said she was confident that the mission to clean the holy river would begin in October.
(ANI)