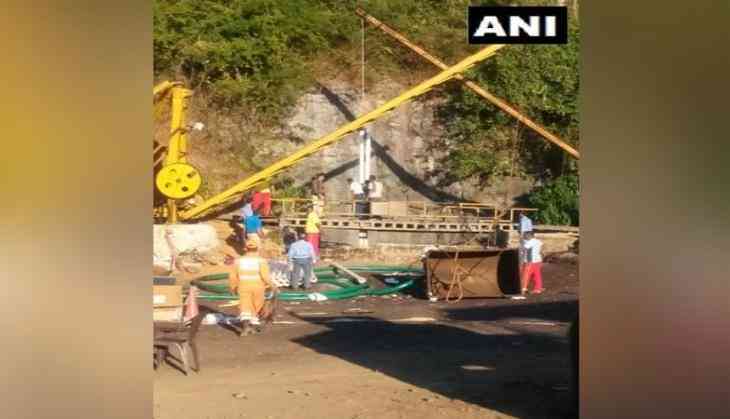 Another coal mine incident took place in Meghalaya where two coal miners died after another illegal coal mine collapsed in the East Jaintia Hills.
Meghalaya: Two dead* after a coal mine collapsed in Mooknor earlier today. S Nongtnger, SP, East Jaintia Hills, says "It is suspected that boulders hit them while they were trying to extract coal. The investigation is underway to identify the owner of the quarry." https://t.co/2aj12hpFnX

— ANI (@ANI) January 6, 2019
Reportedly, 15 miners are trapped inside a flooded coal pit, an official said on Sunday.
The two miners have been identified as Elad Bareh and Monoj Basumatry from Mooknor in Jalyiah village.
Meanwhile, the investigation is going on and also to find the owner of the quarry, Police said.
The body of Bareh was found in front of a rat-hole coal mine. While the second dead body was found inside the narrow mine, Sylvester Nongtnger, district police chief, told IANS.
As per the reports, the incident took place when boulders hit them while extracting coal from the mine.
An inquiry has conducted and dead bodies have been sent for autopsy.
The rescue operation is still underway to evacuate the 15 coal miners at Ksan near Lyteiñ River in East Jaintia Hills of Meghalaya, ANI reported.
For rescue, pumping machines of Kirloskar and CIL were used but they have been stopped working due to a technical glitch. However, they will be restored soon, said Reginald Susngi, rescue operations spokesperson.
Meghalaya: Operation continues to rescue the miners who have been trapped in a mine at Ksan near Lyteiñ River in East Jaintia Hills. They are trapped since 13 December. pic.twitter.com/GFTZUp1igH

— ANI (@ANI) January 6, 2019
On the other hand, Odisha firefighters were continued to drain out water from the illegal mines.
In 2014, the National Green Tribunal (NGT) had ordered an interim ban on the rat-hole coal mines in the state.
Recently, NGT has also imposed Rs 100 crore fine on the state government due to the failure to stop the illegal mine works.
Watch Video:
Also read: AAP Punjab leader Sukhpal Khaira resigns from Arvind Kejriwal-led party, two days after senior leader HS Phoolka