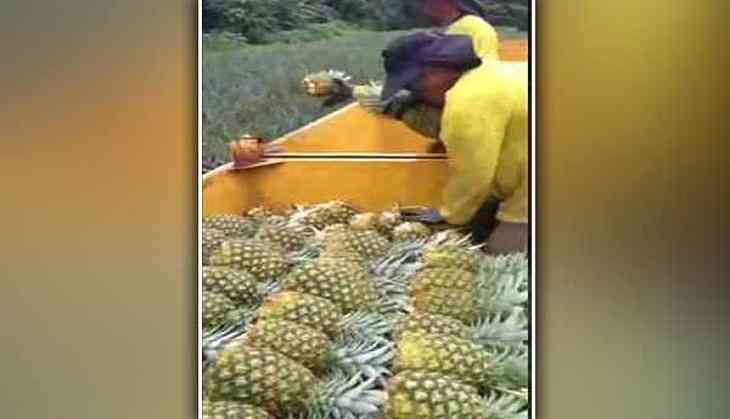 To boost the export of pineapples, state-run Tripura Horticulture Corporation Limited (THCL) signed a memorandum of understanding (MoU) with Spicejet Merchandise Pvt Ltd during a seminar on processing and marketing of horticultural produce of Tripura.
The memorandum is targeted towards providing pineapples to major cities of the country.
The 'Queen' variety of pineapples is considered as the pride of Tripura.
Soon, this variety is expected to be exported not only to other Indian states but also to different parts of the world including the Middle East countries.
Chief Minister Biplab Kumar Deb has decided to make Tripura's sweet pineapples, considered unique in its taste, be made available not only in the domestic market but also abroad so that the local farmers are benefited.
Further keeping the queen variety of pineapple in focus, a high-level seminar on processing and marketing horticulture produce was held at Pragna Bhawan.
State Agriculture and Tourism Minister Pranajit Singha Roy inaugurated the program in presence of other officials.
Minister Roy said, "Actually had their been a market than the farmers would not have moved away from pineapples. Our government is less than 2 month 10 days and we along with all the department has jointly take this initiative to give provide to the pineapple farmers who produce more than 1.3 lakh MT of the fruit so that other than the demand of the state the remaining may be sent out of the state markets. So that everyone outside can taste the queen and kew pineapple of Tripura. We have take this initiative in war footing manner so that farmers never say that we do not want to produce pineapple."
The seminar was attended by horticulture experts and some international exporters.
Approximately, more than 1 lakh metric of 'Queen' and 'Kue' pineapple is produced in Tripura annually.
Pineapple is one of the major fruit crops in terms of area and as per the statistics, the productivity of pineapple per hectare is 18.73 tonnes, which is higher than the national average of 15.80 tonnes.
However, farmers in absence of any canning center and export said that they would not be able to continue to bear the loss as local demands and the prices are not up to the mark.

Another reason behind the decreasing production of pineapple in Tripura has been because many farmers are shifting from pineapple to rubber which seems to be more profitable.
(ANI)