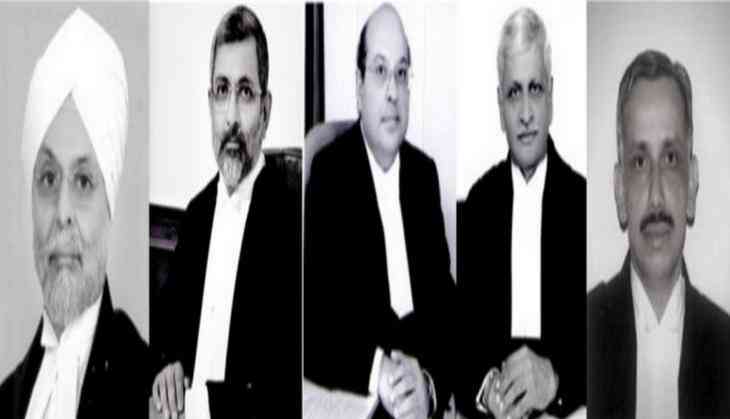 A bench led by 5 senior Supreme Court judges on 22 August declared Muslim practice of Triple talaq as "illegal, sinful and retrograde".
Three judges -Justices Kurian Joseph (Christian), RF Nariman (Parsi), UU Lalit (Hindu)- out of five termed the Triple Talaq as unconstitutional. Chief Justice JS Khehar (Sikh) and Abdul Nazeer (Muslim) had different views on the matter.
The five-judge constitution bench headed by Chief Justice J.S. Khehar had reserved its verdict on May 18 after a six-day marathon hearing.
During the hearing, the Centre had assured the apex court that it would come out with a law to regulate marriage and divorce among Muslims if triple talaq is upheld as invalid.
The Apex Court has asked the Union Government to bring legislation.
Let's have a look on the people who wrote the fate of Muslim women:
1. Justice Jagdish Singh Khehar (Sikh): Khehar is the first Chief Justice of the country to be associated with the Sikh community. He became the 44th Chief Justice of the nation this year. He has been a judge in Supreme Court of India since 13 September 2011 and will retire on 27 August 2017.
2. Justice Kurian Joseph (Christian): In 1979, Justice Joseph started practicing in the Kerala High Court. In 2000, he became a High Court judge. Kurian played the role of Chief Justice twice in the High Court.
3. Rohinton Fali Nariman (Parsi): Born in 1956, Nariman became the senior lawyer of the Supreme Court at the age of 37. At that time, the minimum age required for this post was 45. Justice Venkatachaliah amended rules for Nariman. Being a master of western music Nariman is the lover of nature.
4. Justice Uday Umesh Lalit (Hindu): Lalit was born in 1957 and started practicing advocacy in the Bombay High Court in 1983. In April 2004, he became a senior advocate of the Supreme Court. In Indian telecommunications (2G) scam Lalit played the role of special prosecutor. Lalit, who became the Judge of the Supreme Court in 2014, will retire in the year 2022.
5. Justice S. Abdul Nazeer (Muslim): Born in 1958, Justice Nazeer started the practice from Karnataka High Court in the year 1983. In 2003, Nazeer became the additional judge of the High Court and in next year, in 2004, he became a permanent judge. In February 2017, Nazeer became the judge of Supreme Court.