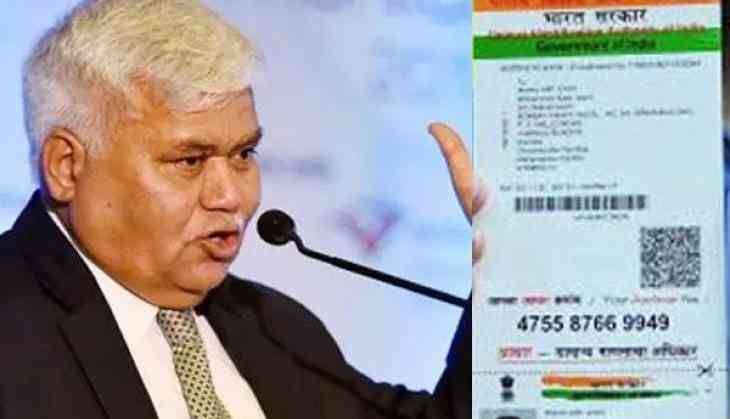 RS Sharma, a chairman of Telecom Regulatory Authority of India (TRAI) dared to challenge hackers to leak his personal details linked to Aadhaar by tweeting Aadhaar number on micro-blogging site. Mr Sharma on Saturday disclosed his Aadhaar number and challenged the hackers to show how mere knowledge of the unique number could leak other details.
After few minutes of his tweet, RS Sharma's challenged got brutally down after he got trolled by the hackers after a series of tweets by them disclosed his personal details like like PAN card number, bank account number, residential address and mobile number. These private details, along with many more like his WhatsApp DP, his landline number, his emails IDs created with Gmail and Yahoo, and his frequent flier number with Air India. From his date of birth to his property in Noida Sector 44.
"My Aadhaar number is ************. Now I give this challenge to you: Show me one concrete example where you can do any harm to me," tweeted Sharma, whose tenure ends on August 9.
My Aadhaar number is 7621 7768 2740
Now I give this challenge to you: Show me one concrete example where you can do any harm to me!

— RS Sharma (@rssharma3) July 28, 2018
In a series of tweets, a French security expert, who goes by the nickname Elliot Alderson and uses twitter handle @fs0c131y, leaked Sharma's personal details such as address, date of birth, mobile number, PAN card number and even WhatsApp profile picture, explaining the TRAI chief how risky it was to make the Aadhaar number public.
Within hours of tweeting his Aadhaar number, Anderson replied to Sharma: "The phone number linked to this #Aadhaar number is 99******77.
"According to an official @nicmeity circular, this phone number is the number of your secretary," Anderson wrote and posted a link to the Ministry of Electronics and Information Technology circular. The security researcher also posted a picture of Sharma with a portion of it blackened. "I supposed this is your wife or daughter next to you."
"People managed to get your personal address, DoB and your alternate phone number. I stop here, I hope you will understand why to make your Aadhaar number public is not a good idea," Alderson, who is known to have revealed security loopholes in the Aadhaar data system, wrote. He even posted screenshots of Sharma's leaked details with key areas blackened and hidden.
This photo is his WhatsApp profile pic, this is public too

— Elliot Alderson (@fs0c131y) July 28, 2018
All the entire episode took an interesting turn when the hacker tweeted 'Walk your Talk' to Mr Sharma and asked him to share his Aadhaar details to the public as he has so much trust in this 13ft wall secured system.
The hacker also tweeted RS Sharma's house address along with DOB, adding declaimer, he tweeted, "This is indeed @rssharma3's mobile number. His house address: F-101, Sector-44, Noida, NCR. Pincode: 201303
Date of Birth: 1955-10-01. Alternate mobile: 9810557292
Disclaimer: I'm not responsible for any trouble that follows for Mr Ram Sewak Sharma. He asked for this himself."
To which Sharma replied, "Itna darte kyon ho bhai? Disclaimer ki kya jaroorat hai? Yeh details koi state scret nahin hain. Meri date of birth Bharat Sarkar ke portal par 40 saal se chhapi hui hai. Ghar ka address thoda purana hai. Naya chahiye to main de doonga. Chahiye kya?"
Also read: Another Jammu and Kashmir cop, Shakeel Ahmad Lone allegedly abducted by terrorists from Tral; fourth such case in three months