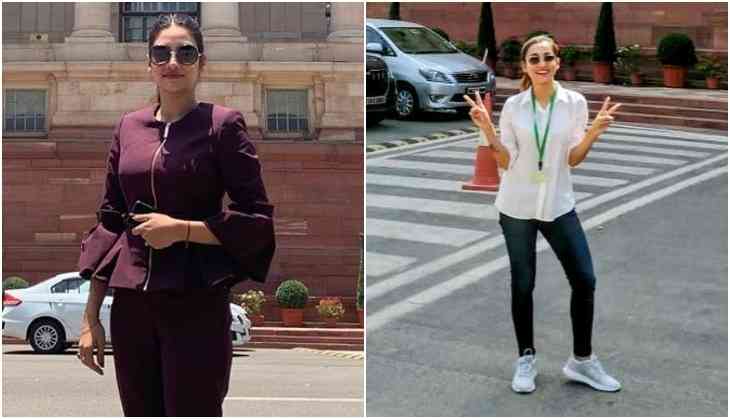 The Bengali actresses Mimi Chakraborty and Nusrat Jahan are in the discussions for winning the Lok Sabha seats for TMC of Mamata Banerjee. Earlier both actresses were in the discussions for their glamorous pictures but this time they are being trolled for posing outside parliament. Actually, Mimi Chakraborty and Nusrat Jahan have shared pictures on social media while giving pose outside Parliament.
The trollers didn't like the way both the actresses were seen giving pose and they started recalling them the dignity of parliament. One user wrote, 'This is the parliament, not a fashion show'.
While another wrote, 'You will surely be making a TikTok video outside parliament'
Let us tell you Mimi Chakravorty is being discussed a lot on social media and after sharing a picture outside parliament surely has made trouble for the actress. This time, TMC came out with the highest celebrity candidates and in few of them also won. However, Munmun Sen lost her constituency seat.
On the other hand, reports are that Mamata Banerjee's three MLA and 40 other workers of the party TMC may join Amit Shah-Narendra Modi led BJP.
Also Read - BJP MPs Hema Malini and Sunny Deol will never sit together in parliament, know why