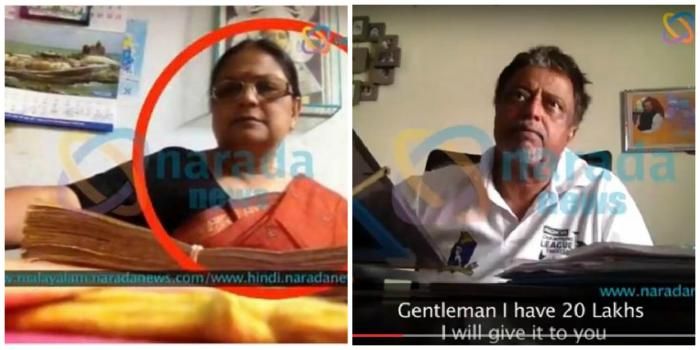 Less than a month before West Bengal goes to polls, the Trinamool Congress finds itself in the middle of a controversy due to a sting operation on its leader. The sting by journalist Mathew Samuel for Narada News, purportedly caught on camera prominent party leaders accepting bundles of notes amounting to lakhs in lieu of "lobbying for" or favouring a fictitious company, called Impex Consultancy.
Among the leaders purportedly caught on camera either talking about money or accepting money are former Union minister and Mamata Banerjee's close aide Mukul Roy, former Union minister in the UPA Saugata Roy, MP Kakoli Ghosh Dastidar, MP Suvendu Adhikari, MP Sultan Ahmed, and Subrata Mukherjee.
CPI(M) tweeted the sting's video from its Twitter handle:
Watch @MamataOfficial's men caught in a sting operation done by ex-Tehelka @mathewsam011. TMC's Poriborton!!!https://t.co/WEzeLdlmLU

- CPI (M) (@cpimspeak) March 14, 2016
Narada news investigations, #TMC Leaders caught on tape accepting money| https://t.co/RlAobWfyKy #NaradaNewsStingOp pic.twitter.com/IEVOR7yj71

- Narada news (@naradanews) March 14, 2016
TMC leader and Rajya Sabha MP Derek O'Brien has rejected its as a "concocted smear campaign" emanating from the "dirty tricks department" of the Opposition. He said:
"You know you can't defeat us politically. So you create a cheap tricks department, a dirty tricks department...we are going to carry on with our political campaign. This is at best a minor distraction on a Monday morning. Where these videos came from, who doctored these videos, who will put a defamation case. We are not bothered. We have seen the videos and all we have to say is that people of Bengal know better, they know what Mamata di stands for."
Listen to Derek O'Brien's entire video message here:
The sting operation was conducted by the former Tehelka journalist who shot to fame after his sting, Operation Westend in 2001, which led to the conviction and imprisonment of former BJP national president Bangaru Laxman.
Story and video link of #stingoperation https://t.co/BJSlaEdT6M #naradanews exposes rampant corruption in @MamataOfficial 's TMC

- mathew samuel (@mathewsam011) March 14, 2016