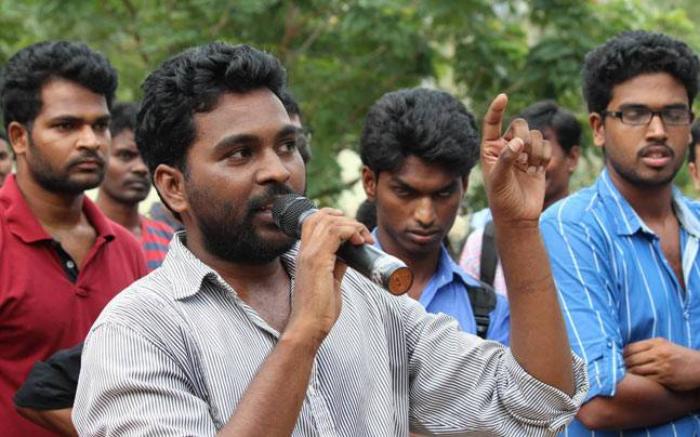 Rohith Vemula, a 25-year-old Dalit PhD scholar from the University of Hyderabad killed himself on 17 January 2016 and left a suicide note behind. His suicide became a predecessor to massive protests and outrage from across India as an alleged case of discrimination against Dalits and backward classes in educational institutions.
Hailing from Gurazala near Guntur, Rohith's father Manikumar works as a security guard at a private hospital while mother Radhika is a tailor. The couple also has a daughter and a younger son.
Here is a recall of the case so far -
This issue stems from an incident that occurred in August last year; the Ambedkar Students Association (ASA), of which Vemula was a member, along with Ambedkar Reading Group (University of Delhi), Ambedkar Periyar Study Circle (IIT Madras), ASA (TISS) in Mumbai, and concerned students from IIT Bombay issued a joint statement condemning an Akhil Bharatiya Vidyarthi Parishad (ABVP) attack on the screening of Muzaffarnagar Baaqi Hain, a documentary based on the Muzaffarnagar riots of 2013.
The documentary was boycotted by the right-wing student body on the grounds of being anti-Hindu. This led to a widespread screening of the documentary in different parts of India as a mark of protest. Later, ASA's University of Hyderabad chapter too organised a protest demonstration.

Another story which is doing the rounds is that ASA members showed support to Mumbai serial blast convict Yakub Memon on 30 June. 'The Deccan Herald', reported on 5 August that the two groups clashed after ASA members carried out anti-capital punishment protests.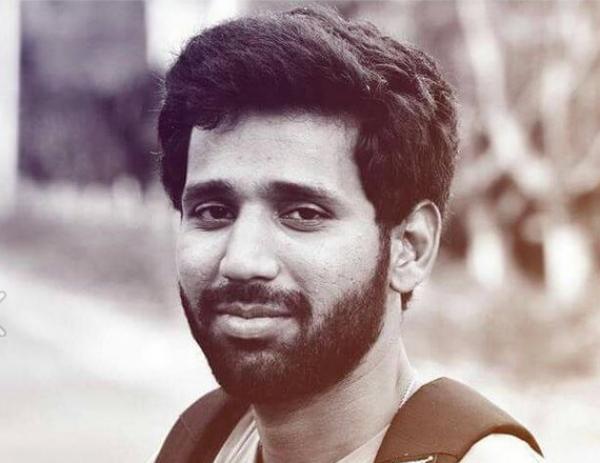 Some ABVP members opposed the protests and vented their anger via social media, calling ASA members "goons". The post didn't go down well with ASA supporters. Later, Susheel Kumar, an ABVP leader alleged assault by ASA members. In August, he filed a police complaint stating that Vemula and four other students had assaulted him and kicked him in the stomach.
*(Susheel Kumar, who disappeared after the suicide, surfaced on 21 January claiming that the ASA members were performing namaz for Memon. He also alleged that ASA members were making statements like 'every house will deliver a Yakub' which strung up the right-wing student group. He also said that Rohith was not the kind of person who will commit suicide so easily and that his case should be properly investigated.)
On August 5, the university set up an inquiry against Rohith and four other ASA members including Dontha Prashanth,Vijay Kumar, Seshu Chemudugunta, and Sunkanna, after Susheel Kumar made these assault allegations.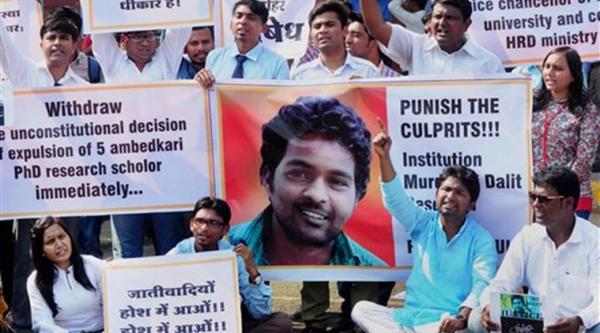 However, it is being alleged that the whole issue was being politicised and that BJP leader and Union Cabinet Minister of State for Labour and Employment Bandaru Dattatreya influenced the university probe by writing a letter on 17 August, to the Minister of Human Resource Development Smriti Irani urging action and claiming that the "Hyderabad University. has in the recent past, become a den of casteist, extremist and anti-national politics".
*(Giving a clarification on the issue Dattareya said "I forwarded the letter on my official letterhead to Union HRD Minister Smriti Irani. I do not know what happened after that. ABVP or BJP has nothing to do with that.)
After a series of flip-flops, the five students were suspended in September. On 17 December, the decision was upheld.
A stipend of around Rs 1.75 lakh, which Rohith received as part of his Junior Research Fellowship from CSIR, was also withheld by the university.
In December, Rohith wrote an angry letter to the VC, sarcastically asking him to provide euthanasia facilities for Dalit students. It is being said that since then, he was scared to go to the administration building and inquire about his stipend. He turned silent and withdrawn.
It is also being said that he was falling into depression as he was being defeated by the system; he blamed himself, his Dalit roots and the circumstances around him.
On 3 January, after the university's sanction got confirmed, the five students moved out of their hostel rooms to a tent they had set up inside the campus and began a "relay hunger protest".
What happened on 18 January?
According to friends, Rohith and other ASA members had gathered to discuss the future of the suspended students on 18 January.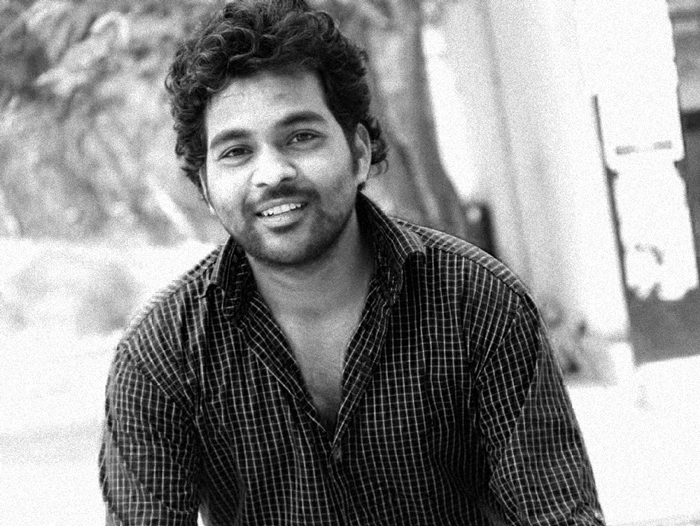 "At 4 pm, he said he had to finish some work and left us. When he did not return till 6 pm, we started searching for him. By then his mother had also called us, saying that Rohith had called her and sounded very depressed. She said he had abruptly cut the call and had stopped answering her calls. Then, we found him hanging from the ceiling fan in a friend's room (207), which was also the ASA activity room. He used an ASA banner to hang himself,'' Krishna Kumar, a close friend of Rohith, told the Indian Express.
The BJP-led Central government, which is under attack due to the alleged involvement of Dattatreya and Smriti Irani, held a joint press on 20 January. Irani defended her stand, saying that Rohith Vemula's suicide is being misrepresented with "malicious intent" as "a Dalit vs non-Dalit confrontation."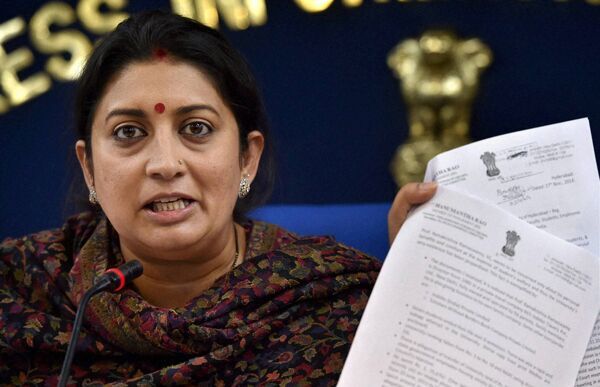 She also said that she was only going by the book by issuing a letter and four reminders to Hyderabad University, seeking comments/facts on the issues raised by Dattatreya as the government is under obligation to respond to 'VIP references'' in 30 days.
She further refrained from making any comments and said that further statements will be issued only after the Ministry's two-member fact-finding committee's report comes out.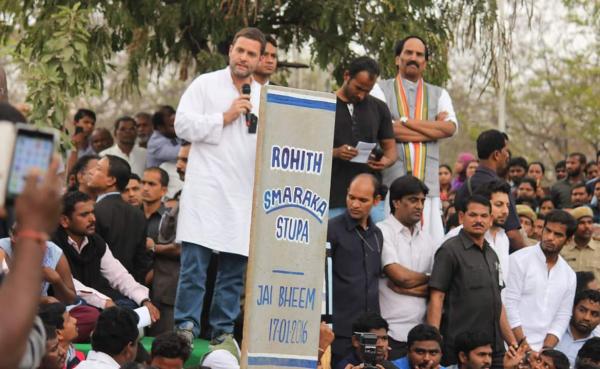 Meanwhile, Congress Vice President Rahul Gandhi went to Hyderabad on 19 January. He attacked the vice-chancellor as well as a "minister in New Delhi", without naming either Irani or Dattatreya, who has been named in the FIR on abetment to suicide.
Trinamool Congress MPs Derek O'Brien and Pratima Mondal spent two hours on campus interacting with students.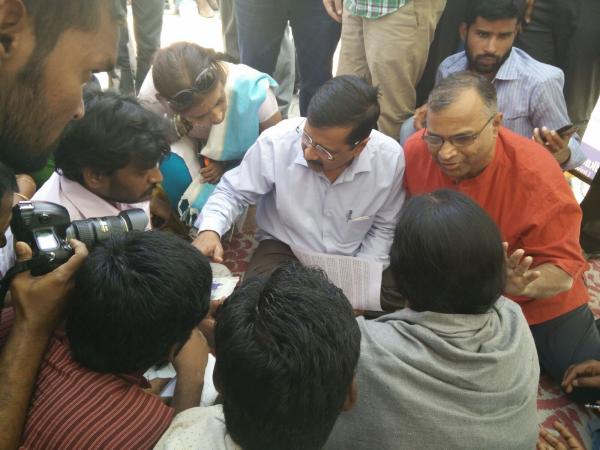 Delhi Chief Minister and Aam Aadmi Party leader Arvind Kejriwal visited the university on 21 January. He demanded that Prime Minister Narendra Modi sack HRD Minister Smriti Irani, Labour Minister Bandaru Dattatreya and apologise to the nation over Vemula suicide, questioning their "interference" in the internal affairs of the institution.
Meanwhile, 15 Dalit professors at the Hyderabad University have resigned from their administrative posts. The professors had earlier attacked Irani for her comments made at the press conference on events that led to Vemula's death.