Somi Das
| Updated on: 24 November 2015, 17:20 IST
A complaint has been filed against Bollywood actor Aamir Khan for his remarks on the ongoing intolerance debate.
Khan made the following remarks at the Ramnath Goenka Awards on Monday:
"When I chat with Kiran at home, she says, 'should we move out of India?' That's a disastrous and big statement for Kiran to make. She fears for her child. She fears what the atmosphere around us will be. She feels scared to open the newspapers every day. That does indicate that there is this sense of growing disquiet, there is growing despondency apart from alarm."
The complaint was lodged at New Ashok Nagar Police Station. Ullhas PR, the complainant, describes himself as "a social film maker, trying to promote social cause through his short films".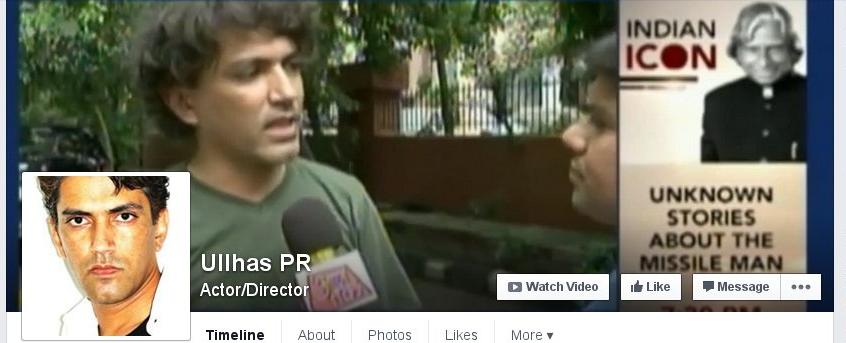 Here's a copy of the complaint.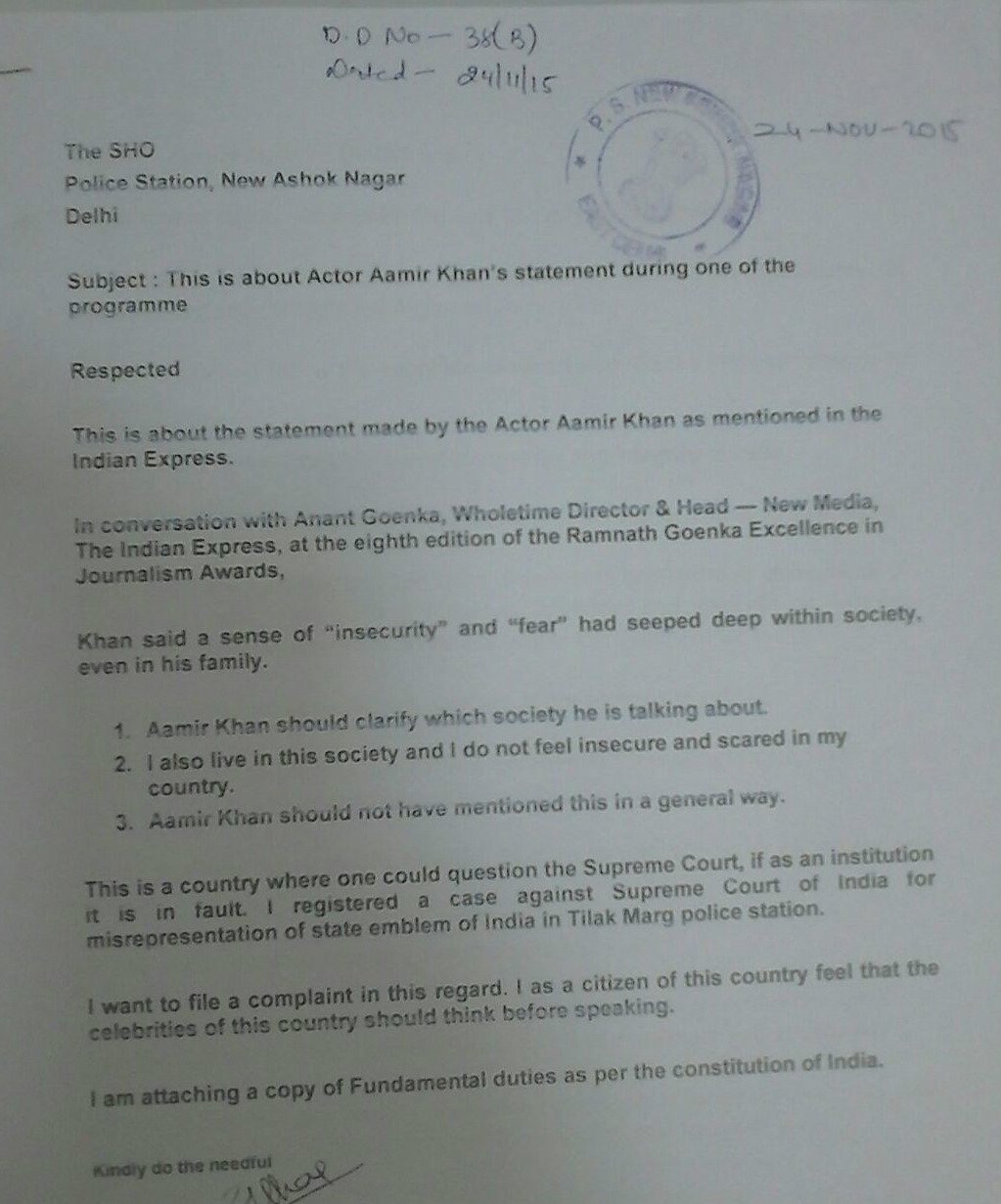 As stated in the complaint, Ullhas' grudge is not singularly directed against Khan but against all celebrities who choose to speak their mind.
Interestingly, the man has a history of filing complaints against Aamir Khan. He was the same person who had complained against Aamir following the release of his movie PK for referring to policemen as 'thulla'.
Catch spoke to Ullhas PR about the purpose his complaint serves.
Q. Has the New Ashok Nagar police station admitted your complaint?
A. Yes, they did. Now it is up to the police authorities to take it forward and file an FIR.
Q. But what exactly is the premise of your complaint? What are the sections you want slapped against Khan?
A. In my complaint I am only talking about the fundamental duties of all celebrities. It is not particularly against Aamir Khan. Celebrities should think before they speak, as they influence a lot of people.
Q. That's your personal opinion about what celebrities should do. But how does it justify going to the police over Aamir Khan merely airing his views? The constitution of India guarantees us the right to freedom of expression.
A. All I am trying to do is to put across the view that I don't feel threatened in this country. Celebrities like Aamir cannot say just about anything on public forums.
Q. You have a history of filing complaints against Aamir Khan. What happened to the earlier complaint you filed against because of the film PK?
A. Nothing happened. No action was taken against him. I filed the complaint against him two days after Arvind Kejriwal was booked for calling Delhi police "thulla". But when no one raised the point that even in Aamir Khan's film the policemen were referred to as "thulla", I filed a complaint. No action was taken against him. What intolerance is Mr Aamir Khan talking about? A country where the chief minister can be booked for derogatory remarks is not an intolerant country.
Q. We gather from your Facebook profile that you are a filmmaker. What are the films you have made and why are you so interested in filing cases against celebrities?
A. Yes. I make short films. I have made a film on why women in Delhi should wear helmets. And one of my films on AIDS awareness made it to the Limca Book of World Records for using 1,400 pictures.
I don't have anything against celebrities in particular. I file RTIs too. I have also raised issues about respecting the national flag and the national emblem in court. I filed a case after watching on television how dignitaries were sitting in front of a national flag that had only eight spokes instead of 24.
Q. You say no action was taken against Aamir Khan the last time. So what are your hopes that action will be taken against him now? And what action do you want taken?
A. I don't want any action to be taken against him. Do you see it written anywhere in my complaint, that I want the police to take action against Aamir Khan?
Q. Then what is the purpose of this complaint?
A. It is just to bring my point of view to the larger audience. If Aamir Khan has the right to say that he feels unsafe in this country, I have the right to say that I don't feel unsafe in this country. If the media airs his view, my views should also be aired.
Q. But if it was just about airing your views, why not just write a blog or a social media post?
A. Do you think people would take the pain to read my blog? No way.
Q. So you filed a complaint against Aamir Khan, because he is a big name and he will help you get some publicity.
A. Yes, this is the only way I can bring my point of view across and make sure that my version is also published in the media.