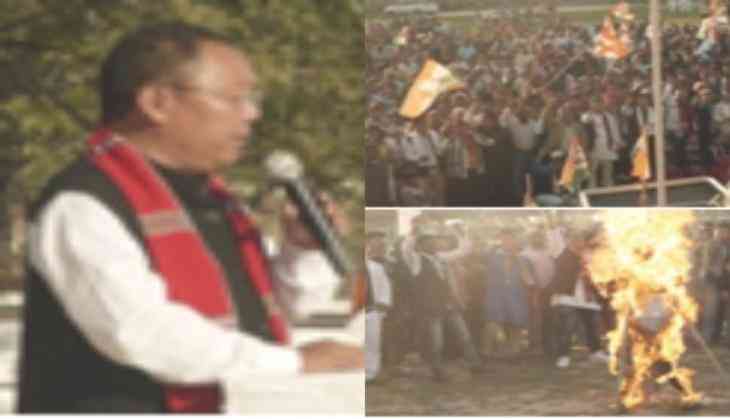 Thousands of men and women, young and old, from the Lekang Assembly constituency, which falls under Arunachal Pradesh's Namsai District, and supporting the Bharatiya Janata Party (BJP), rejoined the Congress Party at a rally held here recently.
The president of the Arunachal Pradesh Congress Committee, Takam Sanjoy, termed the attendance as a mass awakening for the prosperity of the state.
"This, however, calls for a united stand to achieve the much desired developed status of Lekang with its limited area and large population. The people, particularly the youth, are hardworking and energetic, but the local leader, despite being elected repeatedly, never cared for his voters, leading to their present horrible living conditions, he said.
"You have revolted justifiably to demand your rights," he said, citing the example of the Woman Interim group president Lokheswari Mili (Taye) and former minister Bida Taku, who have highlighted as to how funds meant for Lekang and Mahadevpur were reportedly diverted. The Congress Party is ready to stand by you, are you ready," he asked, and was responded to with louder hoi, hoi , hoi (Yes, yes, yes).
Sanjoy, who chaired the high-powered committee on grant of LPC, said that he had submitted the report to the GoAP recommending grant of permanent residential certificate (PRC) forthwith, but the Government of Arunachal Pradesh, is yet to act. All of you, including men and women, and PR leaders have to unite to launch the agitation to achieve success, he exhorted.
He claimed that the BJP is adept at breaking up society, which the world's largest and oldest party, the INC has been uniting and integrating, and advocated non-violence agitation following the Gandhian spirit.
It was a tell-all stories of Sitapuri, Eraloni, Kopatoni, Wisali, Krishnapur, Kalgudi, Mahaloni, Dharampur, Mahadevpur I to IV villagers under Lekang circle whose prolonged agonies came to the limelight, when their leaders one after another earlier went on explaining their sufferings.
Registering their strong protest against RSS chief Mohan Bhagwat that the RSS cadres could be ready in three days to protect the border, but the army takes six months, Arunachal Pradesh Youth Congress cadres burnt his effigy and shouted anti-Bhagwat slogans.
A 30-member team led by Nyasam Jongsam, Tirap team led by senior leader-cum-DCC president Chongkkom Hondik, while APCC vice presidents Thingap Taiju & Mikir Lollen, general secretaries, presidents Kamla Lingi (APMCC), Geli Ete (APYC) & Teli Mello Camdir (NSUI) and Seval Dal chief orgniser Kipa Kaha, among host of party leaders, were present.
The views expressed in the above article are that of Mr. Pradeep Kumar.
--ANI