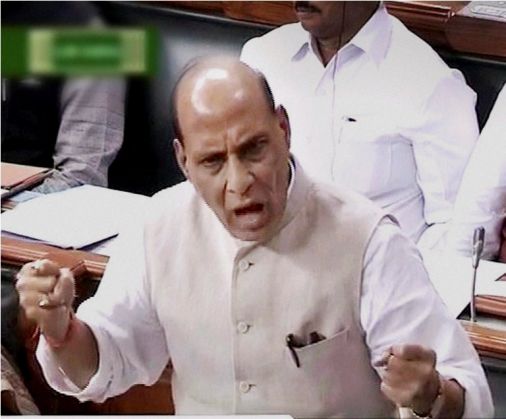 Amid repeated adjournments caused by Opposition protests in Parliament, Home Minister Rajnath Singh made a statement on the Gurdaspur attack on 31 July.
He said that the three terrorists had infiltrated from Pakistan to carry out the attack. He also assured Parliament that the Narendra Modi government would do everything possible to prevent terrorist attacks from across the border.
"Any effort by the enemies of our nation to undermine India's territorial integrity and security or imperil the safety and security of our citizens will meet an effective and forceful response from our security forces," Rajnath Singh said.
Later in the Lok Sabha, he said, the term 'Hindu terrorists' coined by the UPA government has weakened India's stand on terrorism. "Terrorism is terrorism, it has no religion, no caste," he said.
Read more: 5 cases of 'saffron terror' and what the term means
He recited a Hindi poem to target the foreign policy of previous Congress governments', saying "China snatched India's rose, Tashkant saw death of Lal Bahadur Shastri and India lost at diplomatic table after winning the war due to its compromises."
The Opposition objected to the Home Minster's statement on the grounds that he had not mentioned in his pre-circulated speech that he would raise the issue of religion and terror.
Meanwhile, government today said it is ready to hold talks with the Congress to break the Parliamentary deadlock.
The Government had indicated convening an all-party meeting to end the impasse in Parliament during an all-party meet yesterday.
"Government had planned to talk to Congress today morning, but due to the CPP meeting Congress leaders were not free. We will talk to them soon when Congress members are free," Union Minister Rajiv Pratap Rudy said.
He, however, said that it was a matter of concern when Congress members did not want to discuss even the issue of national security when Union Home Minister Rajnath Singh gave a statement on the Gurdaspur terror attack.
The Opposition has been asking for the resignations of External Affairs Minister Sushma Swaraj and Madhya Pradesh and Rajasthan chief ministers Shivraj Singh Chouhan and Vasundhara Raje since the Modigate and Vyapam issues surfaced.
(With inputs from PTI)