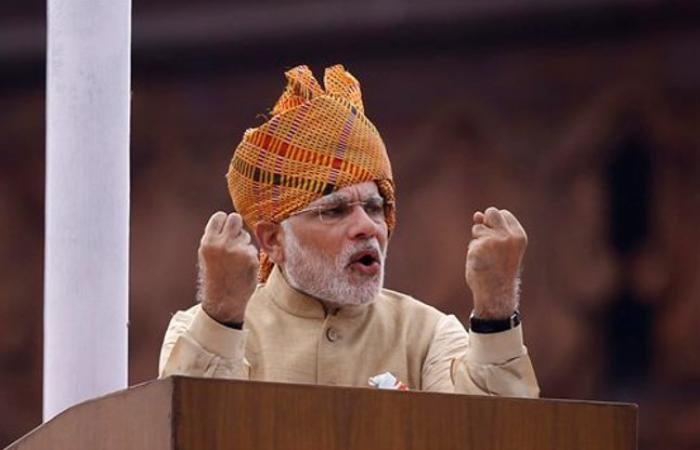 While addressing the nation from Red Fort on the 69th Independence Day, Prime Minister Narendra Modi packed his speech with attractive figures accomplished by his 15-month-old government. What didn't make the cut? Figures that might not paint a rosy picture.
Here's the report that Prime Minister Modi presented
6,500 crore: amount of undeclared money disclosed during the black money compliance window.
20 lakh: number of people who joined Modi's #GiveItUp campaign have given up LPG subsidy.
30,000 crore: the amount of money the national exchequer will get out of coal block auctions.
4,25,000: number of toilets built in schools nationwide in one year.
20,000 crore: amount of money deposited in Jan Dhan Accounts.
17 crore: number of people who have opened accounts under Jan Dhan Yojna.
0: the number of corruption cases Modi claimed had been leveled against his government.
But what about the other side of the story?
2568 - number of farmers who committed suicide in the year 2014, according to the National Crime Records Bureau. Though the activists pointed out that the number was far higher. In the BJP-ruled state of Maharashtra alone, 1,300 farmers ended their lives in the last 6 months.
1.5 million: the approximate number of children who die in India every year because of malnutrition, according to the World Health Organization (WHO). It is estimated that out of 19 million children suffering from acute malnutrition in all developing countries, 8 million are in India, twice the number in sub-Saharan Africa.
12.9 per cent of the youth in India (age group 18-29 years) is unemployed, according to the survey conducted by the Ministry of Labour and Employment, Government of India for the year 2013-2014.The overall unemployment rate in the country stands at 4.9 per as per the survey.
5.5 million: the population of working children in India. One in every 11 children in India is working. Out of these nearly 10% of adolescents working in hazardous conditions are working in family enterprises.(Source: International Labour Organization's World Report on Child Labour 2015). But ironically, the Union Cabinet, earlier this year, cleared amendments to the child labour law to allow children below the age of 14 to work in select 'non-hazardous' family enterprises. A proud moment for India?
287: the incidents of communal violence were registered in the first five months of the year 2015. According the Union Home Ministry the deaths due to communal clashes during January-May 2015 were 43 and the number of injured too were 961. To give an overview, communal violence registered a jump with incidents rising by 24% and related deaths too up by 65% till the end of May 2015.

113: the number of cases of attacks on journalists were registered in the year 2014. (Source:Ministry of Home Affairs). So much for freedom of expression as guaranteed by the Constitution of India.