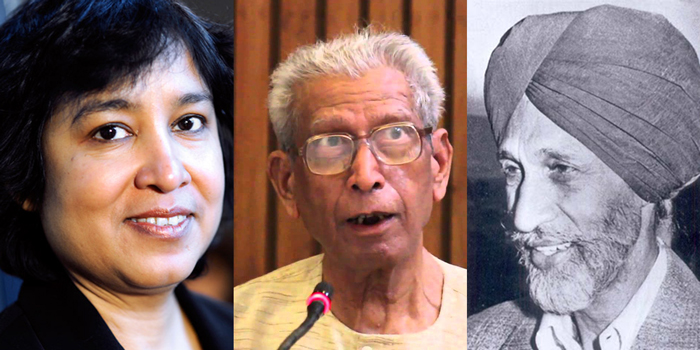 While almost 30 authors have returned their Sahitya Akademi awards, protesting against the climate of 'growing intolerance and communalism' in the country, some voices of dissent have also started surfacing, dubbing the acts as 'double standards'.
Taslima Nasrin, a renowned Bangladeshi writer, who has been living in exile after she was persecuted for writing the controversial novel 'Lajja', has also criticised this move of Indian writers. In Lajja, she covered the plight of Hindus living in Bangladesh after the Babri mosque demolition in 1992.
What did she say?
In an interview given to Times Of India, Nasrin questioned the writers' decision to remain silent when she was being persecuted and her book was being banned in West Bengal.
Although she said that she did not consider it wrong that writers were returning their awards as a show of protest, Nasrin did raise the issue of the five fatwas which were issued against her after her book was published and how West Bengal government forced her to leave the state.
"I have been struggling alone for the right to live here and for my freedom of expression. Not only were they silent, famous writers like Sunil Ganguly and Shankha Ghosh appealed to Buddhadeb Bhattacharya, the then CM of West Bengal, to ban my book," she said in the interview.
Authors who refused to return awards
Noted Hindi author Namvar Singh, on 17 October, also questioned the writers who have returned their awards as he pointed out that the awards were given to them by Sahitya Akademi and not the government.
"I feel the writers have taken this decision fitfully, and few people will also question this move as a move to gain publicity," he said.
In another such instance, renowned Punjabi writer Gurdial Singh has also refused to return his awards including a Padma Shri.
"I will not return the Padma Shri or any other award, even though I am pained by the growing intolerance and more. I feel that the immediate response of writers, following the killings of writers in Karnataka and the beef lynching in Dadri, was spontaneous and worthy. But after that, it has become a cult of sorts and I have no wish to jump on the bandwagon," the 82-year-old writer told Hindustan Times.
What is the controversy?
Sahitya Akademi is the most prestigious award in the field of literature in India after the Jnanpith award. Every year, the Akademi felicitates authors writing in 24 different languages to acknowledge and honour their literary work.
On 4 September, Hindi writer Uday Prakash had returned his award to protest against the killing of noted Kannada scholar MM Kalburgi. Other popular writers like Nayantara Sahgal and Ashok Bajpai followed suit and now the total number of writers who have returned their awards has reached 30.
However, the government has termed this protest as manufactured and politically motivated.