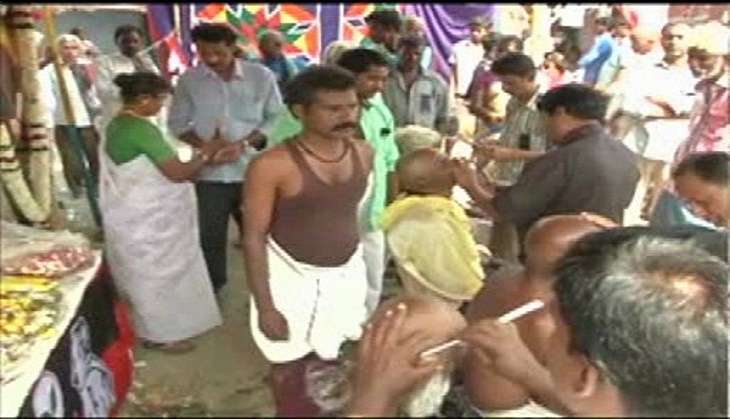 Scores of staunch supporters of former chief minister J Jayalalithaa tonsured their heads to mourn the death of their beloved 'Amma' in Tamil Nadu's Coimbatore district on 6 December.
As the news the death of Jayalalithaa flashed across the nation, her heartbroken supporters decided to tonsure their heads at Sabari Temple in Sidhapur.
Gloomy faces, tear-dried skin were visible as they sat on the chairs to get their hair tonsured.
Surlirajan, an Amma supporter, cursed his fate for not being able to see the face of his beloved Amma and wondered whether anyone can match the stature and possess a good heart like Jayalalithaa.
"We are mourning the death of our Amma by tonsuring our heads here at Sabari Temple. She dedicated her life for us. We doubt whether we would get any other leader like her. We would have been happy had we seen Amma's face when she was admitted in the hospital," Surlirajan said.
Also read:PM Modi visits Chennai, pays floral tribute to Jayalalithaa
Meanwhile, lakhs of people thronged at the Rajaji Hall in Chennai to pay their final respects to Jayalalithaa.
During this, the shell-shocked crowd suddenly broke down upon seeing Jayalalithaa's body wrapped in national flag inside a transparent coffin.
Meanwhile, a seven-day state mourning has been declared from today morning to mourn the death of the beloved six-time Chief Minister and a three-day holiday has also been announced for educational institutions in the state.
--ANI