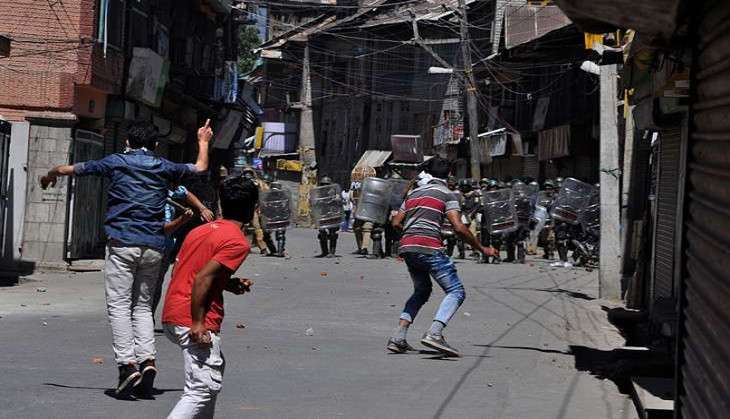 The Swarajpeeth organisation today issued a statement on the current situation in Kashmir and claimed that it wants to save the Kashmiri society from complete destruction.
In a statement, the organisation said, "The current wave of serious agitation in Kashmir has so far left 98 protesters dead, 15,000 civilians injured, more than a hundred blinded, many more semi-blinded and 1000 security forces men injured in what is being envisaged as the gory phase in the current turmoil of Kashmir. The state administration and institutions of Law and Order have collapsed completely and total confusion is prevailing on ground.
The paradigms of this agitation can be summed up as under and are necessary to point out if we want to save Kashmiri society from complete destruction. Excerpts:
1. Neglecting the 2010 civil agitation and its aftermath
The 2010 civil agitation which killed 126 youngsters and wounded thousands was in a way subsided not by any positive effort but by coercion, resulting in increased radicalization and many youth joining armed insurgency. The report of the three member interlocutor team under late Dilip Padgoankar was not even debated in Parliament nor made public, suggesting the lack of seriousness which has brought Kashmir situation to the gloomy horizons in 2016.
2. Remembering Kashmir only when it burns
We , the civil society and Government of India remember Kashmir only when it is engulfed in violence and unrest. The moment false image of normalcy - like arrival of tourists- is achieved everything is forgotten. Ignoring the 1987 rigging of elections gave rise to violent militancy of 1990s. People's urge for a peaceful resolution of conflict was ignored, which gave rise to anger in 2008, Human rights abuses were brushed apart; it gave rise to 2010 summer violence, suffocation and suppression compounded by lack of grassroots democracy resulted in Himalayan rage in 2016. The biggest lesson on both sides would be to create congenial environment and build dialogue.
3. Reforming crowd control mechanisms
Considering the sensitivity of Kashmir it is all the more necessary to have such crowd control methods which effectively deal with protests but does not violate the line of the higher law of humanity, does not brutalise our own people As traditional crowd control tools of teargas shells and pepper gas with recently added infamous pellets have wrecked havoc. In every agitation in Kashmir these very crowd control weapons have come under sharp criticism. Pellets have blinded, pepper has damaged respiratory tract and thus people have got more angry and alienated. Untrained crowd control force should be replaced with a more professional one.
4. Draconian laws
Blanket continuation and misuse of Public Safety Act (PSA) and AFSPA have acted as catalyst for public rage and resentment, whatever be the magnitude of militancy and protests the manner in which these laws have been implemented have damaging consequences on the psyche of Kashmir. PSA as an act was formulated to curb Timber Smuggling, but it is, instead, used for crushing dissent and has became a means of corruption for the police. It is high time an expert committee analyses the efficacy, impact, misuse and abuse of such laws to bring justice, make the law enforcement law abiding, and pacify the anger.
5. Sustained Dialogue
We believe that only sustained dialogue is the way ahead to resolve Kashmir issue and related conflicts. Starting from zero every time a new government is elected has weakened the institution of dialogue. Neglecting dialogue by the state during less turbulent times has proven to be imprudent. We need to recognise that an active and systematic dialogue with reasonable voices of Hurriyat is need of the hour otherwise any political and leadership vacuum would create havoc as fanatic groups will fill the vacuum and take the charge of the youth. That will make it easy for global radical outfits to lead Kashmir youth and tap their anger. It will have devastating consequences from every angle. A structured and comprehensive dialogue with those who represent anger of Kashmir is a must to defuse the situation. It also will let rationality prevail over rigidity, and peaceful means over the violent..
6. Failed schemes and policies
It is a travesty of Kashmir's fate that policies and schemes have been drafted as measures of fire fighting and easing the situation in Kashmir. They have been ill conceived and ill-implemented. Post 2010 unrest Kashmir witnessed Prime Minister Youth Scholarship Scheme (PMYSS) being announced for study of Kashmiri students in outside states but implementation of it via touts, providing below par institutions for study and not depositing scholarship money on time has lead to failure of this prestigious and promising scheme. The need of the hour is to formulate and implement visionary policies on Kashmir rather than cosmetic measures which only erodes confidence building."