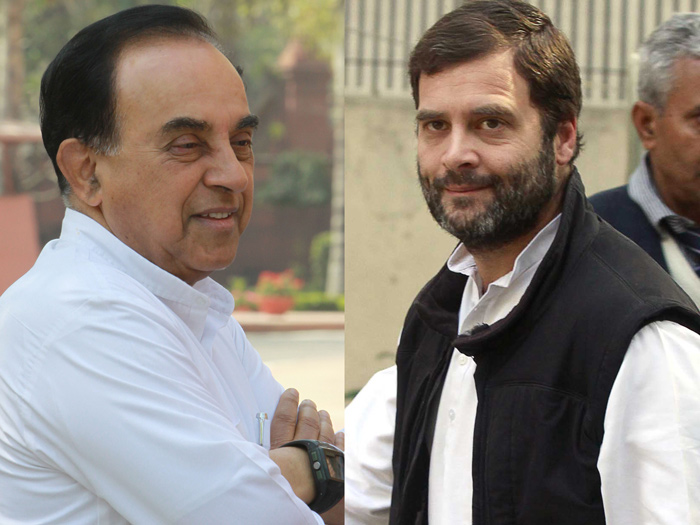 Bharatiya Janata Party (BJP) leader Subramanian Swamy on Wednesday maintained his stand that Congress vice-president Rahul Gandhi had taken British citizenship to set up a company in the United Kingdom and said that he would write to the Election Commission to ask whether he can remain a voter in India.
"The Congress has not denied anything. First crime they have admitted, namely that Rahul Gandhi started a company in England and that under the Indian Law cannot be started. Secondly, if you have started you should mention it. When you become an MP, you have to mention it. But you (Rahul) never mentioned it," Swamy told ANI.
"The Congress people are all big liars. They say that I raised this issue in 2012. When and where did I raise this issue? It is the first time that I have bought these downloads from the British Registrar of Company's website and the Congress has not denied those," he added.
Swamy insisted that the Congress vice-president has lot of things to explain and the matter may go to the ethics committee.
"Meanwhile, I will file separate cases. I will file the first case in the Enforcement Directorate. Then I will write to the Election Commission to ask whether they know that he has declared himself as the citizen of Britain and perhaps he is also an Indian citizen. So therefore, whether he can remain as a voter in the Indian voter roll," he said.
"One crime has been admitted by Congi: Buddhu did set up a company in UK. So a FIR is to be registered under FCRA, PMLA, FEMA. I will ask ED.I have traced Backops as a shell co. to companies receiving kick backs in Indian defence deals' illegal commission. Another press conference (sic),"Swamy had earlier said in a series of tweets.
Earlier, the senior BJP leader had asked Rahul Gandhi to release all the documents that he has in his possession regarding his 'citizenship'.
"For setting up a company in Britain, if he is an Indian citizen and has not informed the Indian Government under FCRA (Foreign Contribution Regulation Act), then he is subjected to prosecution. If he has not declared it in his affidavit as a candidate for Lok Sabha, not once but twice, then he is subjected to prosecution and even removal from his membership on that basis," Swamy had said.
"I have produced documents, submitted by the company in which Rahul Gandhi is the 65 percent shareholder, director and company secretary. He is informing the registrar of companies on his annual return that he is a citizen of Britain in writing, not for one year, but four years in a row," he added.
Earlier, Swamy claimed of having evidences which could prove that the Congress vice president is a 'British national'.
Swamy alleged that Rahul Gandhi had declared himself as a British citizen between 2003 and 2009 in order to set up a private company in London, and has written to Prime Minister Narendra Modi demanding that the government strip the Congress vice-president of his Indian citizenship.
However, the Congress Party rubbished the claims saying that Swamy and the BJP were repeating rehashed allegations levelled earlier on multiple occasions.
"Swamy and BJP are repeating rehashed allegations levelled earlier on multiple occasions including through press conferences held in Ahmedabad and Delhi in October 2012...From the day he was born, Rahul Gandhi has held Indian citizenship and Indian passport and has never held citizenship of any other country nor has he represented as such. The allegation by Swamy is entirely false. The Certificate of Incorporation of the said company is enclosed and clearly mentions," Congress leader Randeep Singh Surjewala said.
-ANI