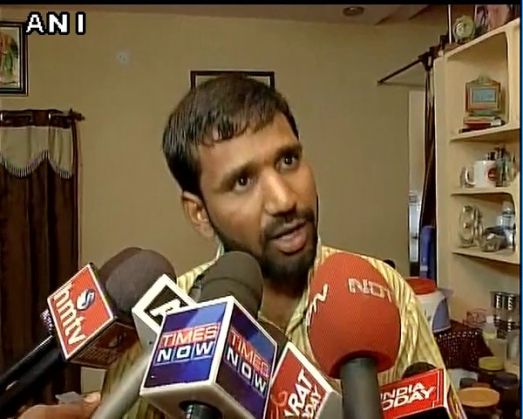 ABVP President and Hyderabad University PhD student, Susheel Kumar - whose complaint against Rohith Vemula led to his suspension - has expressed shock that an expulsion from the hostel could drive the Dalit scholar to commit suicide.
Speaking to the media Kumar said, "I am disheartened. A small thing like suspension couldn't have driven him to commit suicide. There should be an inquiry into why he committed suicide. If the courts find me guilty I am ready to face punishment."
People said I faked & lied about my operation, I felt like I wasn't treated as a student: Sushil Kumar (ABVP) pic.twitter.com/gnfL4xQn0s

- ANI (@ANI_news) January 21, 2016
I had no support, thats why approached HC. I approached the MP (Bandaru Dattatreya) seeing him as Govt MP, not as a BJP MP: Sushil Kumar

- ANI (@ANI_news) January 21, 2016
Kumar's statement comes a day after HRD Minister Smriti Irani said that Vemula's suicide should not be seen as a "Dalit vs non-Dalit confrontation".
She denied allegations that her government was taking a keen interest in the case because of the involvement of a ABVP student. To justify her point that the matter not a caste issue she specified that Kumar too hailed from an OBC community.
Students of the Ambedkar Students Association (ASA) alleged that the five Dalit students were suspended following pressure from Labour Minister Bandaru Dattatreya.
On 4 August 2015, Kumar had complained that he had been attacked by members of the ASA - an assault that reportedly resulted in him having to undergo an appendix operation.
However, the initial poctrorial board of the University - that conducted an inquiry into the matter found that Kumar had not been physically assaulted.
On 18 December, the University administration decided to expel the students from their hostel and other public places on the campus - with the exception of the campus library.
Following the order, the five Dalit students, including Vemula, were locked out of their hostels. A month later, Vemula committed suicide. In his suicide note, Vemula lamented about identity politics, while also requesting that no one was to be blamed for his death.
The issue has become a national one with students from across the country joining in with the protests by the ASA students. Politicians too have been making a beeline at the Hyderabad University campus. Delhi Chief Minister Arvind Kejriwal will visit the campus and meet Vemula's mother today.