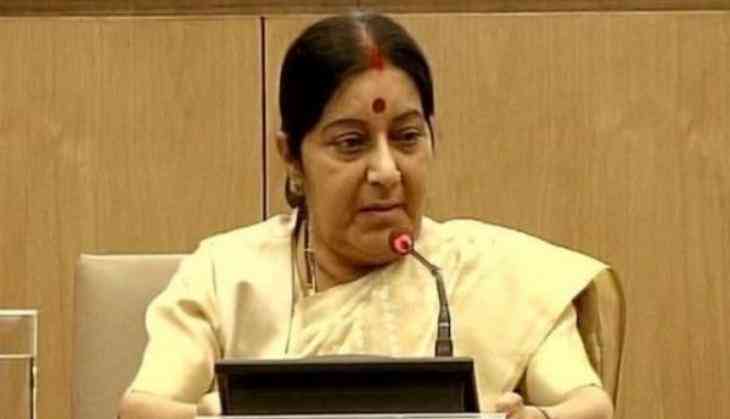 External Affairs Minister Sushma Swaraj will on Thursday make a statement on treatment of Kulbhushan Jadhav's wife and mother in Pakistan in both the Houses of Parliament.
Swaraj will first address the Rajya Sabha at 11 AM and the Lok Sabha at 12 noon.
Earlier on Wednesday, the Parliament witnessed protests, with various political parties, including the Shiv Sena, Trinamool Congress and AIADMK condemning the way Pakistan humiliated the kin of jailed Indian national Kulbhushan Jadhav in Islamabad.
"We condemn the way Kulbhushan Jadhav's mother and wife were treated in Pakistan. Kulbhushan Jadhav should be brought back to the country," said Congress leader Mallikarjun Kharge in the Parliament.
Even Congress leader Veerappa Moily termed the treatment meted out to Kulbhushan Jadhav's family members as "a diplomatic failure on the part of our MEA and the country".
Earlier on Tuesday, the Ministry of External Affairs (MEA) said Pakistan disregarded the cultural and religious sensibilities of former Indian naval officer Kulbhushan Jadhav's family, who met him on Monday in Islamabad.
The wife and the mother of Jadhav were asked to remove mangalsutra, bangles and bindi, besides having been asked to change the attire, for "security" reasons.
After the meeting, Jadhav's mother and wife were also harassed in heavily guarded foreign ministry office by Pakistani journalists.
Adding to these treatment, Pakistani journalists heckled and harassed Jadhav's mother and wife by hurling insensitive questions on them - "Aapke patidev ne hazaron begunah Pakistaniyo ke khoon se Holi kheli ispar kya kahengi? (your husband killed thousands of innocent Pakistanis, what do you have to say about that?)'" and "Aapke kya jazbaat hain apne kaatil bete se milne ke baad? (How do you feel after meeting your killer son?)".
Jadhav is on a death row in Pakistan over charges of terrorism and spying for India's intelligence agency- Research and Analysis Wing (RAW).
On May 18, 2017, the International Court of Justice stayed the hanging after India approached it against the death sentence.

- - ANI