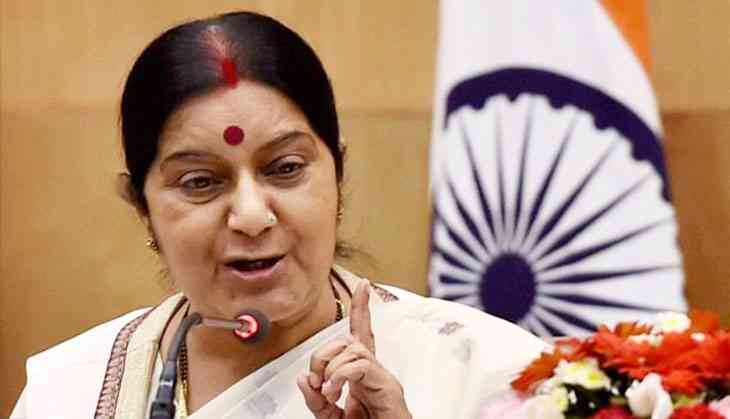 State run Chinese media has alleged Indian External Affairs Minister Sushma Swaraj of lying in her country's parliament on the border standoff between India and China in Doklam.
In an editorial titled 'Military conflicts to escalate if India refuses to withdraw troops', the Global Times, citing Indian media reports, said that Indian Foreign Minister Sushma Swaraj on Thursday informed her country's Parliament that "all countries are in India's support," and India is alert to the need to protect its security near "the border where the boundaries of China, India and Bhutan meet."
"She was lying to the parliament. First, India's invasion of Chinese territory is a plain fact. New Delhi's impetuous action stuns the international community. No other country will support India's aggression. Second, India's military strength is far behind that of China. If the conflict between China and India escalates to the intensity where their row has to be resolved through military means, India will surely lose," the editorial added.
Calling Doklam a Chinese territory, the daily suggested that India should "abandon the fantasy of a long-term standoff at Doklam".
The daily warned that China will by no means agree to the withdrawal of troops from both sides in order for talks to be held and it will not compromise on its stance.
The Global Times further said that withdrawal of Indian troops is must for precondition for talks between the two sides.
It said India's stance has subtly shifted and it has started referring to Doklam as a tri-junction area of China, India and Bhutan. "These changes show New Delhi's guilty conscience," it said.
"India should have heard about the news that the People's Liberation Army (PLA) has deployed troops near the China-India border and transported materials and supplies to the area. The PLA is also reportedly conducting drills for mountain operations. These are certainly not for show. Now that the PLA has moved in on the China-India border, they will definitely not call back troops unless they recover the Chinese territory," it went on to say.
The editorial stressed China's military might and said that the country cannot afford to lose an inch of territory.
"The China-India border area may become a stage where China showcases the achievement of its long-term military development and reforms," it said.
The daily warned that China might get itself prepared for a military confrontation against India if Indian troops continue trespassing into China's territory and resolve the conflict through non-diplomatic means.
The editorial comes as Indian and Chinese troops continue to be locked in a standoff in Doklam.
Both sides have moved additional troops, ammunition and military equipment to the area. The People's Liberation Army (PLA) of China has beefed up its defence in a region south of the Kunlun Mountains under the pretext of conducting a military exercise near Tibet.
Hardware has been moved simultaneously by road and rail by China's western theatre command, which oversees the restive regions of Xinjiang and Tibet,and handles, among others, border issues with India, media reports have said.
This show of strength is being projected by Beijing as a warning to India by China to back off from its objection to China constructing a road at the Doklam tri-junction.
On Thursday, the Ministry of External Affairs (MEA) reiterated that differences between India and China should not and would not be allowed to become disputes, and added that communication between the two governments have never ceased, nor have been broken.
"The differences between India and China should not be allowed to become dispute. Every powerful player, power in the world prefers peaceful resolution of matters that are in hand. The diplomatic channels and diplomatic communications have never been ceased, they have never broken," MEA spokesperson Gopal Baglay told media.
External Affairs Minister Sushma Swaraj informed parliament that all countries, including Bhutan, are with India with regard to the Dokhlam Plateau stand-off.
"India wants that troops are removed from the tri-junction point to discuss the issue together. All countries, including Bhutan, are with us," Sushma told members of the Rajya Sabha.
"Over the years, China has been trying to get closer and closer to where the tri-junction point ends. It has done things like repair roads, re-tar them and things like that,"Swaraj added.
"If China unilaterally changes status-quo of tri-junction point between China-India and Bhutan, then it poses a challenge to our security. We have the law and right on our side," she said about India's position.
The issue of China's presence in the South China Sea was also countered by Swaraj, who said, "There is no threat to India from Beijing in terms of sea presence."
On the 'One Belt One Road' issue, Swaraj said India is opposed to the China-Pakistan Economic Corridor's (CPEC) inclusion in the OBOR since the time it was proposed, as it was passing through territory that India claims as its own.
Bhutan recognises Doklam as its area, while China claims it as part of its Donglang region. Doka La is the Indian name for the region. (ANI)