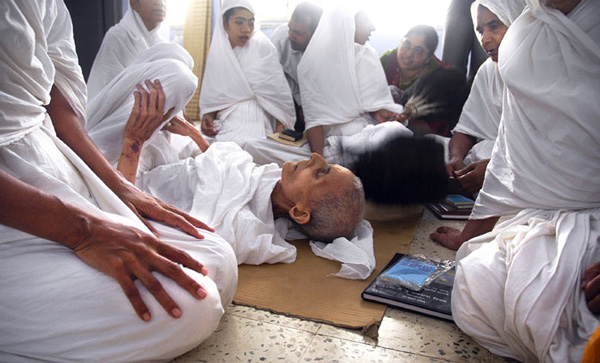 The Supreme Court has stayed a Rajasthan High Court order which earlier declared that the religious ritual of Santhara by the Jain community was illegal. The ritual entails willingly starving oneself to death.
The apex court's ruling comes after the Jain community protested against the High Court order, arguing that the ritual is a voluntary act. They claimed the verdict was a direct violation of the Indian Constitution's guarantee of religious freedom.
The Rajasthan High Court on 10 August had banned Santhara and made it punishable under section 306 (abetment of suicide) of the Indian Penal Code. The court observed that the practice was essentially suicide. It stated that any person using religion as a reason for Santhara is liable to be charged.
The HC decision was in response to a public interest litigation (PIL), filed by human rights activist and advocate Nikhil Soni about 10 years ago. Soni argued that the ritual is a social evil and should be considered as suicide.
This practice had come to light in 2006 when 93-year-old Keila Devi Hirawat from Jaipur had fasted unto death.
What is Santhara?
It is a religious practice of the Jains in which a person gives up food and water and fasts unto death. The Swetambar (white sect) of the Jain community practices the age-old ritual. They consider it the ultimate way to attain moksha (release from the cycle of rebirth).
It is usually adopted by a person who believes their life has served its purpose. It tends to be practised mostly by elders nearing death or having no desire to live any more.