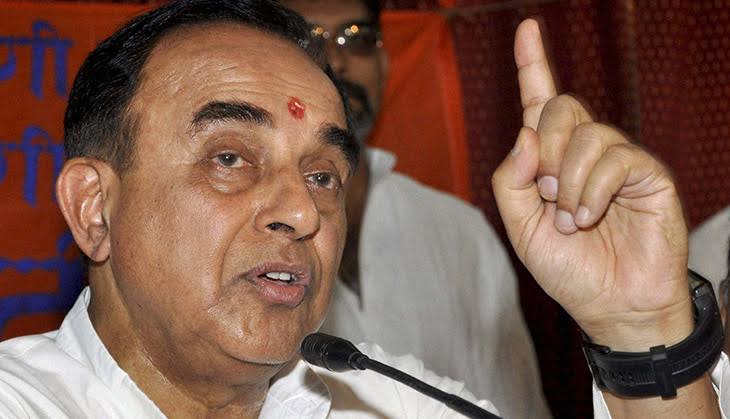 With Prakash Javadekar being involved in a public spat with Union Women and Child Development Minister over the culling of wild animals, Bharatiya Janata Party (BJP) leader Subramanian Swamy today advised the Minister of State for Environment and Forests to call up Maneka Gandhi and come to a conclusion.
"Maneka has a long record of being concerned about this issue and I think the proper thing to do is not to reply to her publicly but for Javadaker to pick up the phone and call her. I mean it is also true that she could have picked up the phone but by then he had already announced it," said Swamy.
"I think he should not respond to her publicly but pick up the phone and call, saying let's have tea and discuss this and come to a conclusion," he added.
Gandhi had on 9 June trained guns at Javadekar and said the latter's ministry is frivolously granting permission to kill innocent animals.
On reports of a large number of deer being killed in Patna, Bihar, Gandhi said that she does not understand this 'lust' to kill.
"The Environment Ministry here is writing to every state asking them which animal they want to kill and they will grant permission. In Bengal, they gave permission to kill elephants, in Himachal they gave permission to kill monkeys, in Goa they gave permission to kill peacocks," said Gandhi.
"In Chandrapur where the condition is so adverse that they have already killed 53 wild boars and permission to kill 50 more has been given. Environment Ministries own wildlife department said that they don't want to kill animals and should not be pressurised for the same. I don't understand this lust for killing," she added.
Later, Javadekar countered Maneka's charges and asserted that such decisions were taken keeping scientific facts in mind to help those affected by such animals.
"I will not react on who said what. But as per the law, we must help farmers whose crops are ruined. The state government sends us a proposal and only then we initiate a step for a specific region and for a specific period of time keeping scientific facts in mind," he said.
Defending the Centre, Javadekar stated that taking such a decision was not the Centre's prerogative, adding that the Environment Ministry acted as per law.
-ANI