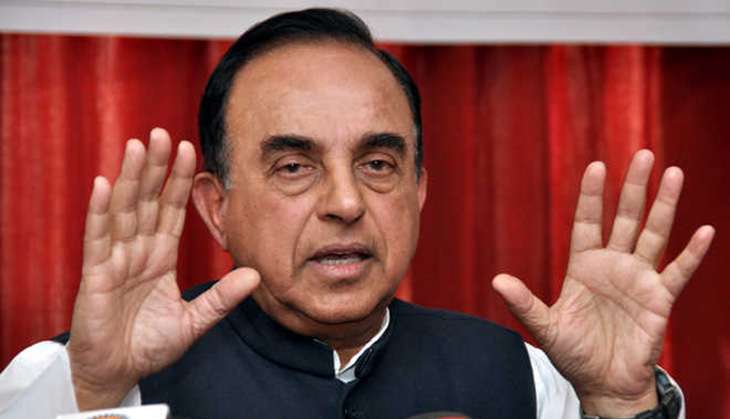 Rajya Sabha MP and senior Bharatiya Janata Party (BJP) leader Subramanian Swamy, on 6 November, lashed out at Delhi Chief Minister Arvind Kejriwal for not taking the Centre's assistance to tackle the current rising pollution levels in New Delhi and said that the latter should apologise to the people for overlooking their needs against his political interests.
Swamy held Kejriwal responsible for the alarming pollution level in the national capital and said that the AAP Government should have taken effective steps at the right time to avoid such a gruesome outcome.
"First of all he should apologise to the people of Delhi for not giving the people of national capital the needed time that it required because he was so busy protesting and visiting Punjab, other states. When they have failed, they say they need the Centre's help. But they really should consider the Centre's help, they say they can handle it and need a free hand. The matter of the fact is that pollution is something which is peculiar to Delhi and you should have known that this is coming," said Swamy.
"Certain effective steps should have been taken. There are all kinds of things which are directly and centrally part of the Delhi administration's responsibility and the Centre will certainly help any government which wants to fight pollution but the prime responsibility is that of Kejriwal and his team," he added.
Kejriwal has announced a list of measures to be enforced by the state government to curb the soaring pollution in the national capital including putting all construction projects across the city on hold for the next five days and ordering the shutdown of all schools for the next three days.
He also stated that the return of the Odd-Even scheme was possible to keep traffic emissions in check, adding the possibility of artificial rain was also discussed in the meeting but it would require Centre's assistance.
Data from System of Air Quality and Weather Forecasting and Research (SAFAR) today indicated that the pollution levels were still "severe", with PM 2.5 at 355 and PM 10 at 482. At 9 am, the PM 10 levels at RK Puram was 999, at IGI Airport it was 436, at Punjabi Bagh, 999, Shanti Path area registered 662. The forecast for the next three days was also marked as "very poor".
Meanwhile, the people from all walks of life earlier in the day gathered at the historic Jantar Mantar to carry out a series of protests beginning today to fight for their right to breathe.
The national capital, considered to be the world's most polluted city, hit a new low the past week.
As millions struggle with hacking coughs and burning eyes, many schools across the city have either shut down or ended all outdoor activities.
Several mask-clad children and concerned citizens were seen protesting against the rising pollution level.
--ANI